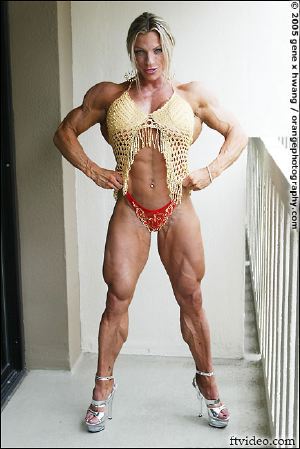 Debi Laszewski, the morning after placing second in the light-heavyweights at 2005 Nationals
"This morning, I felt sick to my stomach." It's the day after the 2005 Nationals, and Debi Laszewski is sitting in the restaurant of the Hyatt Regency Hotel in Atlanta, wearing black sweats and eating an avocado salad in between photo shoots. The night before, the 37 year-old from West Palm Beach, Fla., making a much-anticipated comeback, had placed second in the light-heavyweight class behind Dena Westerfield – the most controversial judging decision of the show.
Onstage at 5-2 1/2 and 136 pounds, Debi looked stunning. She was in phenomenal condition, her body etched with unreal detail right down to her striated glutes. And yet despite being so unbelievably hard, she also exuded femininity. In female bodybuilding terms, she seemed to have squared the circle.
After pre-judging, it seemed like everyone at the show was talking about Debi and how amazing she looked. Before the show, Debi and her boyfriend and trainer Ryan Stamm had felt her main competition would come from Elena Seiple. However, after Elena was announced in third at the night show, Ryan was sure Debi had it. Along with many in the audience, he was in shock when she was announced in second place.
For Debi, it was a case of déjà vu. At the 2000 USA, almost everyone in the audience had expected her to win the heavyweight class but she placed seventh – a judging decision people still talk about to this day. Disillusioned, she drifted away from competing after that show.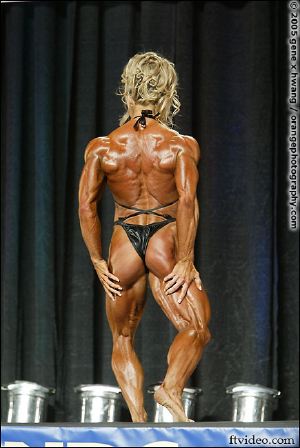 Debi onstage at Nationals. More stage shots from Nationals in the members gallery
Then, in August this year, Debi won the light-heavyweight and overall at the Southern States, re-qualifying her for Nationals four years after her last show. After that show, where she came in at 133, Debi sent pictures of herself to NPC women's chairperson Sandy Ranalli and told her she was planning to do Nationals. Ranalli told her in an e-mail: "I would come in in the same condition." At Nationals she actually weighed in three pounds heavier than at Southern States and slightly fuller. "I wasn't as stripped down," she says. However, after pre-judging, Debi says, one of the judges told her, 'Don't squeeze anything. Just show your shape.'
It turned out that four of the judges had Debi in first place (compared to six for Dena and one for Elena) and only two points separated her and Dena. After the show Debi quizzed several of the judges, who told her she was just "too much." She says one of them told her she had too much detail in her back, which made her feel like she was being penalized for her muscle maturity. Another told her that the kind of condition she displayed would have been perfect for a pro show but – paradoxically - not for a pro qualifier like Nationals.
For Debi, it was even more frustrating than the USA in 2000. "I feel worse this time, because I know I looked better than in 2000," she says. It was also more baffling because, unlike in 2000, she came so close this time. "I would have preferred 6th or 7th," she says. The day after the show, while clearly disappointed, Debi seems resigned rather than angry. "I always seem to the do the wrong show at the wrong time," she says.
Debi Laszweski (pronounced "La-chev-ski") grew up in Wausau, Wis. She did track and field and played tennis as a teenager, and got started in bodybuilding at the age of 21 after seeing Linda Hamilton in Terminator. She competed for the first time in a natural show in Wisconsin in 1994 and quickly progressed, qualifying for the national level two years later.
After placing second in the middleweights at Junior Nationals in 1997, Debi put on some extra size and stepped up to the heavyweights. Despite often being the shortest and lightest competitor in the class, she held her own, placing third at the USA in 1998 and fourth in the North Americans.
Then came the show where many felt Debi should have gone pro - the 2000 USA in Las Vegas. "It was mind-boggling to see her backstage," says Robin Parker, who placed second in the heavyweights that night. "She was one of the best conditioned and impressive female athletes anyone had seen." She did Nationals again in 2001 but her heart wasn't in it and she placed 12th. "I just didn't have it anymore," she says.
For the next four years, Debi, now living in Florida, put competition behind her and focused on her personal training business. She continued to train in pretty much the same way as before and kept her weight around 143-145 pounds, but had no plans to compete again. She then got a shoulder injury and was in surgery and rehab for 18 months. "I thought I was done for good," she says.
However, at the beginning of this year Debi began to re-think. One factor that influenced her was the introduction of the light-heavyweight class, which she felt was perfect for her. "I didn't have to be as big and I could focus on my symmetry and shape," she says. "It was more fun to do." The time off also seemed to have benefited her, and when she started to get back into contest shape and started to see detail in her body she felt confident that she looked better than ever. "My body had matured," she says.
While Debi's placing came as a complete shock to most of the audience in Atlanta, Debi says she had never quite believed she was going to win – not least because of what happened to her in 2000. "I'm never 100%," she says. "1% of me always doubts the judges, because who ever knows for sure?"
Debi pauses when asked her whether, after the way the show turned out, she now regrets having competed at Nationals. "No," she says finally. "Everything happens for a reason. I don't have any regrets. We've invested too much time and money to have regrets. I'm just disappointed because I did my homework and research and I was specific. You're left going, 'Where do I go from here?'"
That's a question Debi says she can't answer yet. "Maybe Nationals in Miami [in 2006], but I'm not making that decision yet," she says. "First I need to sit back and relax." After a few more photo shoots, of course.

You can e-mail Debi at debi@debilaszewski.com.
To see more Photos and Video of Debi Laszewski, Join the FTVideo Members Area!