2012 Toronto Pro Super Show
June 1- 3, 2012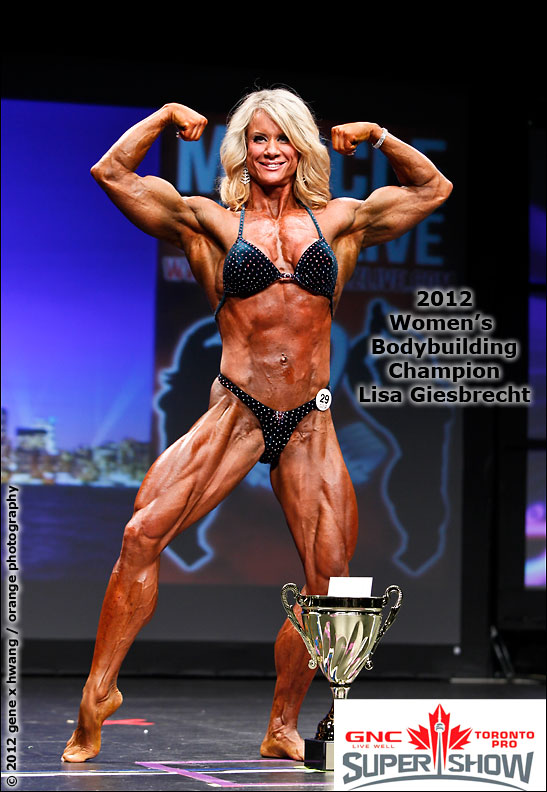 Toronto, ON, Canada - Canadians dominated the GNC Toronto Pro Super Show in 2012 and perhaps the biggest notable was Lisa Giesbrecht taking the womens bodybuilding title in her pro debut in bodybuilding. Giesbrecht had previously competed at the California Governor's Cup in pro physique but didn't find that it suited her and made Toronto her debut back in bodybuilding and it was quite the memorable one.
In a field where many thought fellow Canadian Cathy LeFrancois or American Kim Buck might be the odds on favorites, it was Giesbrecht who brought a crisp, tight package to the stage and won out. Buck, who placed second looked terrific as well, but Giesbrecht's ripped physique edged the win for her. British bodybuilder Wendy McCready took third and looked very solid with nice balance throughout. Following in fourth was Gillian Kovack who was making her pro debut and she has a promising future ahead of her in the pro ranks. With a slightly tighter waist she'll be able to move up in placings if she nails her conditioning too. Veteran Laura Carolan placed in fifth with perhaps the most conditioned physique on stage with crazy vascularity throughout.
Another Canadian, Janeen Lankowski brought a nice, thick physique for her pro debut and edged out LeFrancois. Russian Alevtina Goroshinskaya and Sweden's Frida Palmell rounded out the division.
In the Physique competition it was local favorite Kim Tilden who broke through for the win edging out fellow Canadian CeaAnna Kerr. They were rounded out by Debbie Barrable-Leung in the top three for a Canadian sweep of the top placings. The physique division continues to evolve, and the most muscular competitor at this show was Lyris Cappelle who displayed a fantastic physique but was deemed a bit too muscular. Her physique could be an ideal one for either physique or women's bodybuilding depending on the era and judging standards, and she looked fantastic.
Two more Canadians, Janessa Roy and Nicole Ball placed in the fourth and fifth respectively, ahead of American Michelle Blank, who continues to improve. Next was Cappelle, followed by Gloria Faulls, who came in tight and looked great. Former bodybuilder Tammy Patnode was next with Amie Francisco behind her. Francisco has a great upper body and overall look so we hope to see more of her in physique.
The hardest working girl in physique, Marina Lopez, placed 11th, but we've learned that Lopez will be making the switch to bodybuilding again and we'll be looking forward to what she brings at her next competition. Rhonda Lee Quaresma made a comeback as well and took 12th followed by ultra veteran Laura Davies (her last show was the 1982 Ms. Olympia).

Results

Pro women's bodybuilding
1) Lisa Giesbrecht
2) Kim Buck
3) Wendy McCready
4) Gillian Kovack
5) Laura Carolan
6) Janeen Lankowski
7) Cathy LeFrancois
8) Alevtina Goroshinskaya
9) Frida Palmell

---

Pro Physique

1) Kim Tilden
2) CeaAnna Kerr
3) Debbie Barrable-Leung
4) Janessa Roy
5) Nicole Ball
6) Michelle Blank
7) Lyris Cappelle
8) Gloria Faulls
9) Tammy Patnode
10) Amie Francisco
11) Marina Lopez
12) Rhonda Lee Quaresma
13) Laura Davies

---

Pro Fitness

1) Jodi Boam
2) Vanda Hadarean
3) Fiona Harris
4) Danielle Ruban
5) Jacklyn Sutton Abrams
6) Allison Ethier
7) Tiffany Robinson
8) Nikki Venzara
9) Whitney Jones
10) Sherry Boudreau
11) Tanis Tzavarass

---

Pro Bikini

1) Pollianna Moss
2) Jennifer Chapman
3) Yeshaira Robles
4) Dayna Maleton
5) Dianna Dahlgren
6) Justine Munro
7) Jessica Paxson
8) Christina Vargas
9 tie) Michelle Brannan
9 tie) Leigh Brandt
11) Genevieve Brodeur
12) Kristy Robbins
13) Katie Chung Hua
14) Ashley Harbour
15) Khanh Nguyen
16) Sandy Avelar
17) Cecile Palacios
18 tie) Natalie Abrhiem
18 tie) Veronique Morin
18 tie) Casey Lee Trailer
18 tie) Jaclyn Wilsone

---

P




OPA Provincials

Womens Bodybuilding

Overall:



Last updated: June 3, 2012 @ 1:08 p.m. PT