2007 Sacramento Pro
February 24 , 2007 - by gene x hwang
Sacramento, CA, USA - The first women's pro show of the season kicked off 2007 with a bang and the year promises a lot. With the new show drawing fans and athletes from around the world, the Crest Theater proved to be an ideal location for the new show.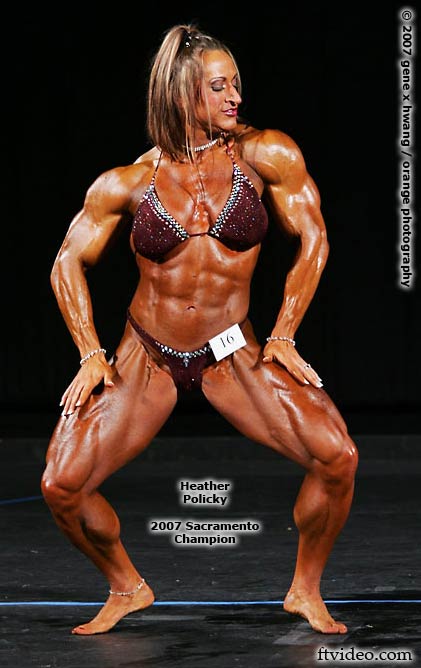 The lightweight class consisted of six athletes, and while it wasn't a huge class, all of the athletes looked good and deserved to stand on stage. The most anticipated athlete was probably Cathy Lefrancois who was back to bodybuilding and looked incredible. During the prejudging it looked like she was the leader, but Toni Norman was a bit more crisp and the judges awarded her the class title.
Vicki Nixon was looking the best she ever has and she was able to place ahead of perenial lightweight placers Gayle Moher and Angela Debatin. Carla Salotti was the lightest athlete on stage at 111 lbs., but the 'mighty lightweight' still showed great lines and brings a nice look to the stage.
The heavies were led out by Swede Irene Andersen who looks very impressive at her size. She said she was trying a bit too much this time to be something that she herself wasn't sold on, and promises to come in bigger and fuller at her next show.
Canadian Helen Bouchard showed off her impressive muscle density and was just not as tight as she needed to be to place higher while Slovakian Aurelia Grozajova can still fill out her frame. Being so tall, and with some incredible athletes in the show, it was hard for her to place higher.
Europa champion Heather Foster had her usual flair for her routine, as did many of the women, providing for an entertaining finals. Mah Ann Mendoza, usually a lightweight, was over the limit but still looked incredible as a heavy. She looked to be in the top three through prejudging, but ended up in fourth just behind the always balanced Brenda Raganot.
Raganot has one of the best and aesthetic structures and just needed to be a bit tighter to place higher. Of course Kim Perez and Heather Policky were the two that were fighting for the class from the get go. Perez has incredible density and her upper body is ridiculous. Policky has her signature legs that almost no one can hang with.
It was a good battle between the two, with Perez and Policky giving each other a run for their money. In the end though it was Policky, the rookie making her debut, who ended up not only taking the class, but the overall as well!
Both Policky and Norman are now on their way to the Olympia but there are a few pit stops on the way first.
---
Check out our message boards to discuss the competition, post your thoughts and chat with the athletes!

Results

Bodybuilding

Overall: Heather Policky*

LW:
1) Antoinette Norman*
2) Cathy LeFrancois
3) Vickie Nixon
4) Gayle Moher
5) Angela Debatin
6) Carla Salotti

HW:
1) Heather Policky*
2) Kim Perez
3) Brenda Raganot
4) Mah Ann Mendoza
5) Helen Bouchard
6) Heather Foster
7) Irene Andersen
8) Aurelia Grozajova


* qualifies for 2007 Olympia

Amateur Figure

Overall: Kelly Green

Short
1) Tracy Hall
2) Akane Nigro
3) Amber Lebeau

Medium
1) Jennifer Lowe Curran
2) Charlotte Blaylock
3) Terecita Seachou

Medium Tall
1) Kelly Green
2) Lucinda Witte
3) Bridgette Ashley
4) Summer Gibbs
5) Marcy Trujillo
6) Jen Lauer

Tall
1) Laurie Mahoney
2) Christina Pistoknik
3) Kelly Allison

Masters over 45
1) Laurie Mahoney
2) Jennifer Lowe Curran
3) Jeanette Palacious

Masters over 35
1) Kelly Green
2) Lucinda Witte
3) Kelly Allison
Last updated: February 28, 2007 @ 12:25 a.m. PT