2006 Olympia Contest Report
September 29-30, 2006 - by gene x hwang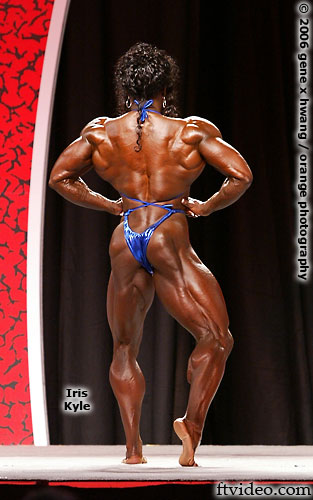 Las Vegas, NV, USA - None of last years champions were able to defend their titles at the 2006 Olympia. Yaxeni Oriquen finished outside the top six, while Davana Medina was not in the show, and Jen Hendershott placed third. Even the men were affected as Jay Cutler took the crown from Ronnie Coleman.
Fitness saw a host of the usual top athletes on stage, while the same could be said for the Figure Olympia, with the exception of rising star Gina Aliotti cracking the top six.
On the bodybuilding side, Annie Rivieccio made the biggest improvement placing third in a very tough class. Many in the audience would agree that Rivieccio could have placed second and they wouldn't have complained.
Bonnie Priest was on and placed fourth while Lisa Aukland keeps improving and took fifth. The ageless Betty Pariso rounded out the top six, with Dayana Cadeau taking the runner up spot to Ms. Olympia Iris Kyle who regained her title.
Jitka Harazimova was one of the top athletes many were keeping their eyes on, but due to getting sick just before the show, her conditioning wasn't there and she wasn't able to present her best package.
Helen Bouchard made her Olympia debut and looked solid with incredible mass and density throughout. She placed ahead of veteran Gayle Moher. Tazzie Colomb placed 11th and Heather Foster, Colette Nelson and Dena Westerfield rounded out the show.
The new fitness champ is, like Iris Kyle, a former champion. Adela Garcia took back the title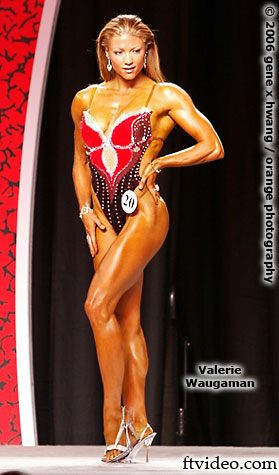 and Kim Klein just keeps improving. Klein placed second just ahead of Hendershott and Tanji Johnson capped off a strong season to place fourth.
Tracey Greenwood was fifth with Julie Palmer completing the top six.
Jenny Lynn was the new Figure Olympia winner. Many thought it might be her, Mary Lado or even Monica Brant this year, but in the end Lynn was the judges choice and she edged out Amber Littlejohn for the title.
Brant placed third and looked fantastic as she always does - just plugging away year after year while Christine Pomponio-Pate was in fourth with Lado following, and Aliotti in sixth.
Some were also looking out for Valerie Waugaman and perhaps she made the biggest stir in figure with her creative posing and suit selection. Her suits were very non-conventional just as her posing is more dynamic than the usual quarter turns. Who knows if it'll catch on or just get her penalized, but it was something you couldn't overlook. Unfortunately for Waugaman, her conditioning wasn't what it should have been and she ended up in
Overall, while there were a lot of changes in champions, there weren't as many new faces threatening to mix things up. It would be nice to have more new physiques on stage, but of course qualifying is tough and you do have to earn your place on that stage.
The expo was bigger than ever, although not quite the magnitude of the Arnold Classic. There was a decent amount of room to maneuver and most of the crowd was there on Saturday. It would have been nice to have had it open one more day to have more time to peruse the floor, but the weekend was jam packed as it was.
---
Check out our message boards to see many more photos, discuss the competition, post your thoughts and chat with the athletes!
View contest pix from prejudging here.

Results

Ms. Olympia
1) Iris Kyle
2) Dayana Cadeau
3) Annie Rivieccio
4) Bonnie Priest
5) Lisa Aukland
6) Betty Pariso
7) Yaxeni Oriquen-Garcia
8) Helen Bouchard
9) Gayle Moher
10) Jitka Harazimova
11) Tazzie Colomb
12) Heather Foster
13) Colette Nelson
14) Dena Westerfield
15) Brenda Raganot


---

Fitness Olympia
1) Adela Garcia
2) Kim Klein
3) Jen Hendershott
4) Tanji Johnson
5) Tracey Greenwood
6) Julie Palmer
7) Julie Childs
8) Angela Monteleone-Semsch
9) Mindi O'Brien
10) Regiane Da Silva
11) Deana Lee
12) Amy Haddad
13) Heidi Fletcher

Figure Olympia
1) Jenny Lynn
2) Amber Littlejohn
3) Monica Brant
4) Christine Pomponio-Pate
5) Mary Elizabeth Lado
6) Gina Aliotti
7) Amanda Savelll
8) Gina Camacho
9) Jennifer Searles
10) Latisha Wilder
11) Jessica Paxson
12) Valerie Waugaman
13) Michelle Adams
14) Inga Neverauskaite
15) Andrea Dumon
16 tie) Jane Awad
16 tie) Michelle Flake
16 tie) Nina Luchka
16 tie) Tara Scotti
16 tie) Chastity Slone
16 tie) DJ Wallis

---

Mr. Olympia
1) Jay Cutler
2) Ronnie Coleman
3) Victor Martinez
4) Dexter Jackson
5) Melvin Anthony
6) Gustavo Badell
Last updated: October 2, 2006 @ 1:45 p.m. PT