2006 Europa Supershow and Expo
August 25-26, 2006 - by gene x hwang
Arlington, TX, USA - New Order's Confusion and Prince's Controversy could be two of the theme songs for fan response to the pro women's show at the 2006 Europa Supershow.
One of the best lineups in recent memory was also one of the most talked about as Heather Foster won the show and is on the way to the Olympia along with Dena Westerfield and Colette Nelson.
Westerfield made her pro debut and was thrilled to have so quickly qualified for the sports most prestigous competition.
Tazzie Colomb also stepped on stage for the first time in a while and was in incredible shape with outstanding conditioning. Foster was not as tight as Westerfield or Colomb and that's the beginning of where the controversy started. With the top callout including a mix of physiques, you had Foster with her size and thickness throughout, but not quite as crisp as the others in that group. Then there was Colomb who was similarly huge, but also ripped.
Then Nelson showed a more streamlined look like Westefield, while Jeannie Paparone was very balanced throughout and also well conditioned.
Someone a lot of people in the crowd were impressed with was Kimberly Perez who added ten pounds of muscle - mostly to her lower body - and looked incredible. She was in shape, had great lines, but wasn't in that original first callout although during the finals she was included in that first callout, appropriately. Perez's mom, who was a bodybuilder herself was also on hand to see her compete.
Gina Davis finally got to make her pro debut and she was looking big and you could definitely not tell she had surgery on her bicep as her arms were their usual impressive size and shape. She had also torn her calf before the show during her prep and was still able to make it onto the stage. Davis could have been slightly tighter but represented herself well for her debut and will be someone to keep an eye on.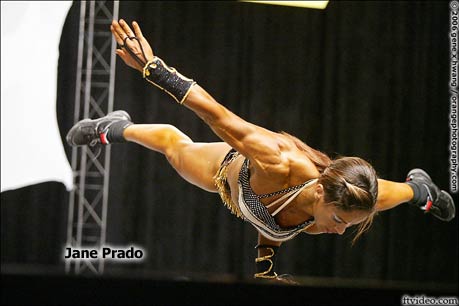 Argentinian Maria Calo also continues to improve her physique and she was very hard, while Kim Buck, another one making her pro debut, looked great but can still fill out her long frame with some more muscle.
Almost of all of the newer faces of the non-American contingent didn't place as well, with one of the most notable being Jana Linke-Sippl from Graz, Austria. Linke-Sippl was very lean and looked remarkable. However, the judges were certainly making a statement by penanlizing her for what she brought to the stage - or was she just overlooked?
The same could probably be said for Maryse Manios, Robin Parker and Natalie Abellan. Marika Johanssen was ripped too, but seemed to have lost some muscle in that process and didn't look as filled out as she should have been while Klaudia Larsen was just a bit smoother than she needed to be. Her muscles are impressive, but the lineup was so deep that even those in the teens (placing wise) were very strong bodybuilders.
Angela Debatin looked very good as did Antoinette Norman who added some nice fullness to her physique while Vicki Nixon was very dry and tight. Sarah Dunlap didn't peak for the show, and was a bit off, so look for big things for her in the future when she dials it all back in.
Aurelia Grozajova wasn't quite full enough like Johanssen but with her very tall frame could probably hold more muscle. Mexican Elizabeth Mesa Gomez may have brought her best shape ever, but with such a deep and talented pool, she was only able to tie for 17th.
In the end, the positive to pull from the competition was the great pro debuts from many newcomers as well as the simple fact that there were so many women competing. Ed Pariso said at the athletes meeting that because of the good turnout, that the 2007 prize money would be increased and the show, which will move to a larger venue next year, continues to be one of the top places for professional women bodybuilders to compete.
---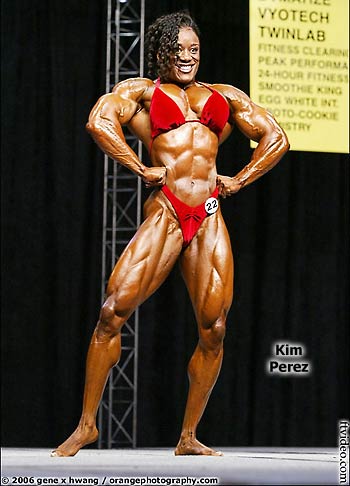 Fitness saw Tanji Johnson continue her hot streak winning another show in 2006. Past champion Mindi O'Brien took second ahead of Julie Palmer and Amy Hadded took fourth in front of her family who finally made it out to one of her pro shows.
Angie Semsch finished in fifth showing off impressive strength moves in her routine. Stacy Simons was in sixth and Julie Lohre, competing back in fitness after recovering from her injury which forced her to compete in figure earlier in 2006 placed seventh.
The best routine went again to Kendra Elias who was in eighth and Bethany Gainey and Sandra Wickham rounded out the top ten respectively.
Lorie Kimes made a comeback to the pro stage after several years off and placed 14th while Amy Huber was ripped and probably placed lower because of her conditioning. Jennifer Cassetty showcased a fantastic physique that seemed to be overlooked in the physique rounds, but should do better in future shows.
Trish Warren had a nicely choreographed routine leveraging her pro bodybuilder husband's making the cover of Muscular Development (and who was also in attendance and guest posed).
In the figure competition, a lot of people were interested to see how some of the new pros would do as many have done well in recent competition and Natalie Benson, the new local pro was one that everyone was keeping their eyes on (at least in the audience).
However, with perennial top contenders like Michelle Adams, Latisha Wilder, DJ Wallis and Amanda Savell on hand, it was going to be tough to crack that top five.
Savell became one of the few back-to-back champions at the Europa and goes to the Olympia on a hot streak. Adams and Walli took the other two Olympia qualifying spots and Texan Bernadette Galvin took fourth ahead of the ever popular Wilder, who many thought had a good chance of getting her first pro win at this show.
The top ten was rounded out by Kate Shelby, Pauline Nordin, Christine Wan, Amy Peters and Kirsten Nicewarner in that order. Peters was in the best shape of her life as was Mavis Tozzi who made her highest placing as a pro just outside of the top ten tied for 11th.
There were, as usual, many who were overlooked including Natalie Benson whose legs weren't quite as sharp as when she won her pro card at the 2006 NPC USAs. She is definitely one of those to keep an eye on though as she will most certainly be able to qualify for the Olympia at some point in the near future. Erica Davidson also looked good but didn't get called out as early as many thought she should have. Arina Manta from AUstralia was in great shape too, but might have been too tight for the judging criteria, based on her final placement.
Juliana Malacarne from Brazil may have had the most memorable legs of the show. They were probably a bit too muscular for the judges, but they were outstanding and her overall look is very nice so hopefully we will see more of Malarcarne on stage. One thing the judges and emcees kept getting wrong is Petra Mertl's name. They post it on scoresheets and announce it as Merti, but it is in fact, Mertl, which we confirmed with her.
Perhaps they can correct that at future shows and also take a closer look at her physique.
In the amateur ranks there were some good athletes competing. Jeanetta Thompson won the overall bodybuilding and has a great frame which she can add a lot of muscle to and still maintain her fantastic shape. Also, Jodi Miller completed her transition back to bodybuilding with a class victory in the lightweights and thus has qualified for Nationals in Miami.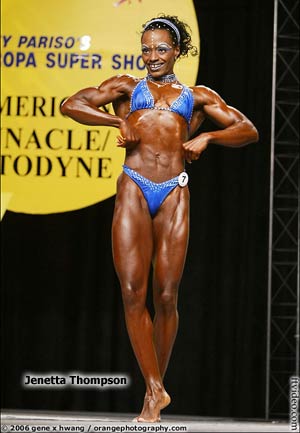 Jodi Bruce also looked fantastic coming in in great shape and with some of the best abs in the show. She was placed second behind a smoother Nancy Smith Warren, but also was able to qualify for a National level show where she should place better.
Amber Jerrell was the overall figure champion and she may be competing at the North Americans later this year. The statuesque Jerrell has a nice frame with lots of curves.
Someone else to keep an eye on is Jill Brooks who has a pretty muscular physique but also has incredible stage presence. If she's not winning a show, she should be gracing the pages of magazines or supplement ads as her looks are striking and she will also be competing at Nationals in Miami later this year.
---
As the show will move to the Dallas Convention Center from Arlington, there are many positives to take away. The performance with Ed and Betty Pariso taking the stage was a lot of fun for the athletes and the competitors, and it allowed the figure women a chance to do more than quarter turns. Jennifer Becerra probably got a lot more photo shoots from showcasing her stage presence and how well she moves, while the crowd got to interact with the athletes too.
---
Check out our message boards to see many more photos, discuss the competition, post your thoughts and chat with the athletes!

Results

Women's Pro Bodybuilding
1) Heather Foster*
2) Dena Westerfield*
3) Colette Nelson*
4) Tazzie Colomb
5) Jeannie Paparone
6) Kimberley Perez
7) Gina Davis
8) Maria Calo
9) Kim Buck
10) Angela Debatin
11) Antoniette Norman
12) Vicki Nixon
13) Sarah Dunlap
14) Marika Johanssen
15) Robin Parker
16) Klaudia Larsen
17 tie) Natalie Abellan
17 tie) Elizabeth Mesa Gomez
17 tie) Aurelia Grozajova
17 tie) Mary Ellen Jerumbo
17 tie) Jana Linke-Sippl
17 tie) Maryse Manios


---

Pro Fitness
1) Tanji Johnson*
2) Mindi O'Brien*
3) Julie Palmer*
4) Amy Haddad
5) Angela Monteleone Semsch
6) Stacy Simons
7) Julie Lohre
8) Kendra Elias
9) Bethany Gainey
10) Sandra Wickham
11) Katie Szep
12) Trish Warren
13) Amy Huber
14) Lorie Kimes
15) Karen Walcott-Williams
16) Bridgette Murray
17) Jane Prado
18) Jennifer Cassety
19) Sandie Weaver-Ward

---

Pro Figure
1) Amanda Savell*
2) Michellle Adams*
3) DJ Wallis*
4) Bernadette Galvin
5) Latisha Wilder
6) Kate Shelby
7) Pauline Nordin
8) Christine Wan
9) Amy Peters
10) Kirsten Nicewarner
11 tie) Mavis Tozzi
11 tie) Jeanette Guenther
13) Erica Davidson
14) Petra Mertl
15) Lisa Morton
16) Leslie Morris
17) Anna Larsson
18) Ines Jimenez-Salazar
19) June Monroe
20 tie) Jennifer Becerra
20 tie) Natalie Benson
20 tie) Elivmar Sanchez
20 tie) Thais Cabrices-Werner
20 tie) Juliana Malacarne
20 tie) Arina Manta
20 tie) Natasha Brown

* qualifies for 2006 Olympia

---

Amateur Fitness

Overall: Brenda Santiago

Fitness A
1) Brenda Santiago
2) Angela Reineck
3) Sonia Wagner

Fitness B
1) Ann Marie Gibbs
2) Barbie Guerra

Amateur Women's Bodybuilding

OPEN

Overall: Jenetta Thompson

LW:
1) Jodi Miller
2) Pat Metcalf
3) Renae Sassenhagen

MW:
1) Nancy Smith Ward
2) Jodie Bruce

LHW:
1) Jenetta Thompson
2) Regina Raine

HW:
1) Heather Altschuler

---

Novice

Overall: Alicia Newton

LW:
1) Alicia Newton

HW:
1) Lea Collier

---

Masters
1) Nancy Smith Ward
2) Jodie Bruce
3) Regina Raine
4) Pat Metcalf
5) Renae Sassenhagen

---

Amateur Figure

Overall: Amber Jerrell

Class A
1) Stephanie Onoroto
2) Akita Thomas
3) Cathy Moore
4) Brady Akers
5) Patricia Houston
6) Yasha
7) Alicia Bell
8) Angela Reineck
9) Nicole Emmert
10) Tracy Chenault-Shank
11) Lily Jones
12) Tammy Moore
13) Rebekah Hardy

Class B
1) Reagan Brenner
2) Susan Jostes
3) Cassie Stinson
4) Misty Hoke
5) Kimmie Brooks
6) Dorielle Barry
7) Hope Bellar
8) Leticia Galvan
9) Kelly Meldrum
10) Jennifer Martinez
11) Tierany Chretien
12) Suzan Golden

Class C
1) Michelle Cortez
2) Melissa Thoreau
3) Jill Brooks
4) Stephanie Bratcher
5) Bridgette Brennan
6. Bridgette Grosvenor
7) Katherine Brown
8) Kerri Harris
9) Christine Robertson
10) Michelle Mazulis
11) Ann Marie Gibbs
12) Sheryl Rollins
13) Robin Antrim
14) Sonya Roemisch

Class D
1) Amber Jerrell
2) Betty Jane Scarborough
3) Jennifer Woodruff
4) Linda McClain
5) Andrea Giacomi
6) Alecia Rankovic
7) Shannon Worley
8) Kristen Dockter
9) Heather Anderson
10) Rebecca Jackson

Fitness Teen
1) Lee Ann Thompson

Masters
1) Betty Jane Scarborough
2) Susan Jostes
3) Linda McClain
4) Kathy Moore
5) Stephanie Bratcher
6) Bridgette Grosvenor
7) Dorielle Barry
8) Shannon Worley
9) Kristen Dockter
10) Sheryl Rollins
11) Heather Anderson
12) Rebekah Hardy
13) Tracy Chenault-Shank
14) Ann Marie Gibbs
15) Michelle Mazulis
16) Robin Antrim
17) Tammy Moore
18) Suzan Golden
Last updated: August 29, 2006 @ 10:34 p.m. PT