2004 Women's World Championships Contest Report and Free Photos
September 18-19, 2004 - by gene x hwang
Santa Susanna, Spain - Greece held the Olympics in 2004 and was also scheduled to host the World Women's Bodybuilding, Fitness and Body Fitness Championships, but with the logistics of it all being a challenge, Spain came to the rescue and hosted the championships in 2004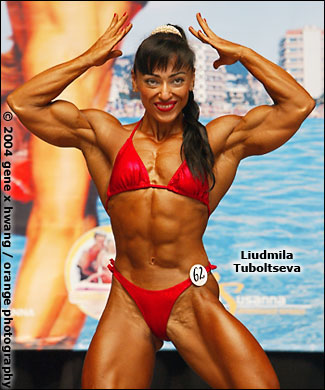 and will also be the destination for the athletes in 2005. The Mediterranean coastal town of Santa Susanna welcomed delegates, athletes and media from all around the world as nearly 200 competitors came to compete for the titles at stake.
The Eastern European countries were perhaps the most represented as was evidenced by the team titles and rankings which saw Slovakia take home the Best National Team title. Neighbor Russia followed in second and the Czech Republic was third. The class champions were also dominated by Eastern European countries with all but two titles going to Slovakia and Russia. The two exceptions went to North/Central America which won the women's bodybuilding overall (and Heavyweight) in Colette Nelson, and the best fitness routine (<1.60m) won by Mexico's Vanessa Xyomara.
There were several differences in the way the Worlds was run from American amateur and pro competitions and with so many delegates and judges from around the world that the judges table saw about as many switchouts as the athletes had callouts. One thing was consistent though and it's become a universal truth in the sport that there would be some controversy with the final results. Of course it never takes away from the competitors themselves, although considering how far many of the athletes traveled, balanced judging would have made it perfect, but anyone in a physique competition knows that there is no such thing as true perfection.
Bodybuilding
While no one had a perfect physique, an argument could easily have been made that some of the athletes came very, very close. In bodybuilding, the middleweight class was the most competitive (as were all the classes - there were three weight classes at Worlds).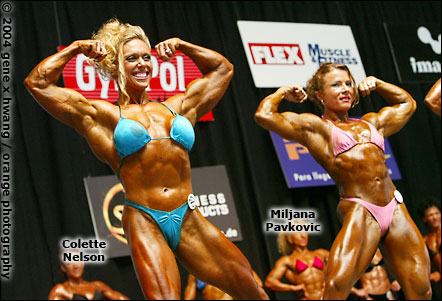 In the lightweight class, it was an easy decision as Svetlana Lomachevskaya-Fedak of Russia was the standout in the class with a balanced physique that included crisp conditioning and full muscularity. She beat Czech Jitka Stastna who may have had a nicer, more sleek v-taper but was not as full. The American representative Vicki Nixon placed a very respectable fourth in the class.
When the middleweight class came out, the class as a whole was intimidating and arguments could have easily been made for several women to have made the final cut. The standout may have been Liudmila Tuboltseva from Russia who appropriately won the Most Improved award. Coming down to the middleweights this year, she was much tighter and her shape was incredible. Many felt that she would win the class and if she had, it would have not been a stretch to say that she could have potentially won the overall as well. With another year under her belt Tuboltseva could easily win at the Worlds if she continues to improve at this pace, and it would not be a stretch to say the she could be a strong pro and one day on the Olympia stage.
The class was won by Jana Purdjakova. The young Czech is also an excellent bodybuilder with nice balance and her legs were probably a shade better than Tuboltseva's. Either way, the top two were incredible and Italian Giuditta Magazzino took third to them. Spain's own Antonia Carreras took fourth and was ripped with vascularity throughout. Rounding out the top five was Salla Kauranen from Finland. With a very polished physique that wasn't as thick, she edged out New Zealand's Joanne Stewart and Canada's Johanna Dejager. Stewart and Dejager were in amazing condition with cuts throughout. Stewart was probably the most ripped and at 43-years old looks amazing. She had originally thought she would retire after this show, but mentioned that she may consider coming back next year after a positive experience at the show.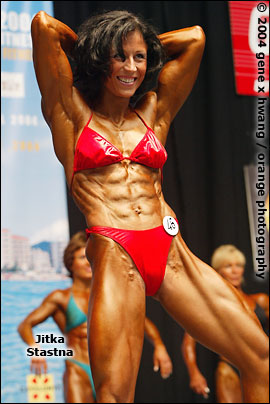 Dejager improved from last year, but was overlooked although she did beat out last year's lightweight champ from Guam, Lori Hayden who moved up to the middles this year. America's Debbie Patton placed 11th in the ultra-competitive class.
The heavyweights were the biggest class and as they were paraded out, it looked it was going to be a battle of differing physiques at the top of the class. It was also the class that saw a top five that might not have included one athlete that many thought was a shoe-in, Portugal's Eulalia Santos. Ripped and full, the Portugese competitor placed 6th, but really should have been in the top five.
The class was won by American Colette Nelson who continued to have an amazing year after winning her class at the 2004 Team Universe (where she qualified for the Worlds) followed by winning the overall at the North Americans. The only thing missing was the American National Anthem but that was not as big a deal for the elated champ. Nelson beat out Slovakia's Aurelia Grozajova who was more lean, but didn't have the fullness and density.
Third went to Germany's Steffi Klopp who has a very promising future. Her full muscle bellies, youth, and impressive symmetry will be hard to beat, and the only thing holding her back this year was her conditioning which was off a bit. If she comes in ripped, watch out!
The biggest competitor on stage was Brazilian Ana Pires, who just made the first cut for the top 15, and Irina Muntean of Romania took fourth. Other notables in the class were the thickly muscled Yevgeniyk Kirilych from Kazakhstan, Branislava Jovanovic from Serbia & Montenegro, Miljana Pavkovic from Croatia, and Angelika Loebardt from Germany. All of them placed below seventh but if they return next year, should definitely be improved.
Fitness
There were three classes in fitness and the level of competition was amazing. While no Americans were there, they would have had a tough time of it. Many of the Eastern European athletes looked to have a gymnastics background and the routines and physiques on stage were fantastic.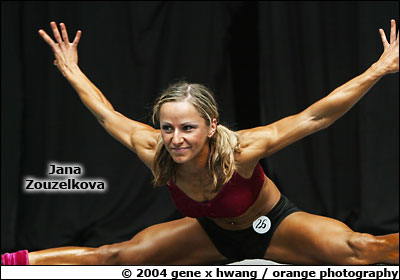 The overall and short class winner was Natasha Guryevskikh. Her fellow Russian Oksana Grishina placed third while Slovakian Natalia Lenartova took third. Fifth was Canadian Nathallie Tabouillet who's physique was one of the best but may have been judged to be a bit too muscular. In the pro ranks, she should fare better physique-wise though.
In the medium height class the tightest physique belonged to Italy's Antonella Ferretti who eventually took fourth. The class was won by Silvia Malachovska from Slovakia, although she was a lot softer than the rest of the competitors that placed below her. Second place finisher Margarita Byelinska could have been a deserving champion of the class too, as the Ukrainian was tighter and performed well in the routine round. Czech Jana Zouzelkova took 3rd and has a very pleasing physique. With a little more muscle and width, she can also win the class. With her six years of gymnastics training, her routines will continue to be strong. Hungarian Monika Szekely took fifth, and Picry Magali from Belgium also looked quite nice although she placed 14th. She was lean and hopefully will return next year and improve her placing.
The tall class was the smallest in terms of numbers of competitors, but not in terms of quality. Spain's Alicia Barco had an very tight, lean, muscular physique but placed fourth. In front of her home country, she was visibly disappointed with her placing and it took her everything she had to hold it together as the rest of the top five were announced. The Spainairds supported her chanting "Ah-LEE-thia, Ah-LEE-thia, Ah-LEE-thia!" which brought a smile to her teary face. Barco should be proud of her accomplishments and performance as she definitely impressed the crowd and her physique was amazing.
The winner of the class was Gabriela Mlsnova from Slovakia, but it could have been argued (and was, actually) that Gabriella Kubesova from the Czech Republic or Svetlana Silakova from Russia should have won the class. It was the result with the most controversy in the final placings, but the crowd at the world's was very respectful of the athletes and only applauded the athletes instead of booing the judging they didn't agree with.
genex awards
Friendliest Team: New Zealand - while we didn't get to talk to everyone the Kiwis were one of the most pleasant teams and so generous all around. They had a big team and are fired up for 2005.
Most Enthusiastic: Japan - the Japanese team had three competitors who were all so polite and excited. Their enthusiam and positive energy boosted the competition.
Best Eyes: (tie) Pia Johnsen, Norway and Barbara Benesova, Czech Rep.
Biggest bodybuilder: Ana Pires, Brazil - thick muscle and density throughout made her one of the most popular photo opps with both fans and other athletes.
Best Future Pro: Liudmila Tuboltseva, Russia - her structure is amazing and with full muscularity and a frame that can hold a little more while maintaing her shape, Tuboltseva should be a force on the pro stage soon.
Most Likely to be a SuperModel: Zivile Raudoniene, Lithuania - with high cheekbones and a great presence in front of the camera, Raudoniene could easily be gracing the cover of Vogue and be on the runways in Milan, hopefully with her physique intact.
Body Fitness (Figure)
Body Fitness is the term used outside of America for figure and while there isn't really a fitness component in the judging, it's kind of a neater word. Like in the States, it's been getting more and more popular and there were some impressive physiques represented but also some sub-par physiques. With the variation in judging the sport in various countries, that's no surprise.
Some of the athletes in body fitness were so amazingly beautiful that they could and should grace more mainstream media outlets, and hopefully smart marketers around the world will pick up on this. If anything, it could be a bridge to bringing more acceptance to all female phsyique athletes and that is always a good thing.
The main issue with so many athletes was time, and the semi-finals (prejuding) went from 09:30 until way past 19:30 the first day, in large part because of the volume of athletes in body fitness and the fact that there are three total rounds of judging for it. One of the harshest things was in two of the classes when they were making the original cut to the top 15, they had two or three athletes that were on the edge of making/not making the cut and the judges brought them back out for a mini elimination round. You had to feel sorry for the girls that didn't make the cut since it kind of highlighted that fact in front of everyone.
The short class was tight with Irina Khorkova of Russia beating Poland's Elzbieta Borechka-Brzozka by two points. Japan's Kiyoko Yamanaka had nice lines and a good vee, and Spain's Silvia Capitan was very lean and a bit vascular.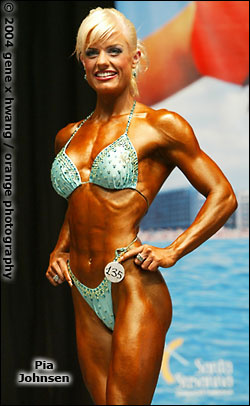 The medium class was also tight, and Germany's Diana Goytia took second to Katarina Verbovska of Slovakia. Goytia probably had the more impressive physique but may have lost because she was a bit more muscular than Verbovska. America's highest placer in body fitness was Kate Shelby who took fourth in the class, just two points behind Lithuania's Ziville Raudoniene.
The best abs in the whole show (including the bodybuilders possibly) belonged to Dutch phenom, Jessica De Groot. The bubbly athlete also had one of the best personalities in the show, and with all of that, could easily become a star in the sport. Katarzyna Kozakiewicz of Poland and Spain's Nora Girones also looked nice with Kozakiewicz placing 6th and Girones just making the initial cut in 15th.
The expansive tall class was won by another Slovakian, Lenka Chalupkova. Spain's Celeste Gonzalez took second and the locals were supporting her wildly for her accomplishment. Norway's Pia Johnsen had the crowd buzzing with her miniscule waist and tight conditioning. Johnsen is very balanced and will be a threat to take the class if she returns next year.
Spain had a lot of athletes in the class and was allowed to have a "B" team in the competition as the host nation, and two of them looked tremendous even against the top women in the world. Carmen Rodriguez was thick and wide, while Laura Vazquez was very lean and had nice delts. On the "A" team, Irma Perez had a nice look with some prominent triceps that made her side shots stand out. All three made the top 15 in a class of 27 with Perez placing 8th, and Rodriguez and Vazquez placing 14th and 12th respectively.
Buzz and Notes from Catalunya...
Eyes could have been a theme at this years show with several athletes possessing such amazing, clear eyes that would get them noticed on any fashion runway. Coupled with their amazing physiques, Barbara Benesova, Pia Johnsen and Heidrún Sigurdardóttir were all traffic stoppers. There were several more, and we hope to see these women getting more publicity and bringing that back to the physique sports too.
Another positive was the fact that there were a lot less athletes with implants. It's nice to see the women not resorting to too much plastic surgery unecessarily, and a large majority of women didn't have implants and of those who did, they were not excessive overall.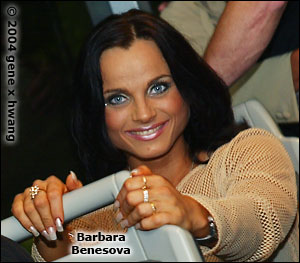 Of course like every show, there is a lot going on off-stage and the Worlds was no different. At the conclusion of the show, there was a banquet and party for all the teams held at a nearby club nestled at the edge of a small cliff with two waterfalls setting a beautiful backdrop and a feel somewhat like a club in Ibiza albeit on a smaller scale.
All of the athletes dressed up for dancing and fun was a sight to see and locals and tourists alike were all captivated. The reception at Imagine was nice in that it started out with just stand up hors devors and drinks for the first hour or so which allowed people to talk and after a few announcements were made, the disco portion opened up and the DJs kicked the music into high gear. The Czech team was the first to storm the dance floor and Eva Supzkova and Petra Svblova were leading the way. It was good to see the body fitness women grooving since we only got to see them do quarter turns up until then.
As the drinks kept flowing, people were filling up the dance floor and grinding away until things shut down. There were a lot of spilled drinks, dancing, and a lot of sweat - the perfect way to round out the arc of the competition weekend.
(official scoresheets w/competitor #s)

Results

Bodybuilding

Overall: Colette Nelson

Lightweights (up to and including 52 kg)
1) Svetlana Lomachevskaya-Dedak
2) Jitka Stastna
3) Joanna Krupa
4) Vicki Nixon
5) Sonja Stenberg-Ala
6) Florina Visan

Middleweights (over 52-57 kg)
1) Jana Purdjakova _ Czech Rep.
2) Liudmila Tuboltseva - Russia
3) vacant
4) vacant
5) Salla Kauranen - Finland
6) Halina Kunicka - Poland
7) Joanne Stewart - New Zealand
8) Johanna Dejager - Canada
9) Lori Hayden - Guam
10) Marina Nikotina -Russia
11) Debbie Patton - USA
12) Francis Manias-Jackson - Canada
13) Renata Speierlova - Czech Rep.
14) Yuko Inoue - Japan
15) Gemma Miller - England
- Guidditta Magazzino - Italy - originally placed 3rd
- Antonia Carreras - Spain - originally placed 4th

Heavyweights (over 57 kg)
1) Colette Nelson - USA
2) Aurelia Grazajova - Slovakia
3) Stefanie Klopp - Germany
4) Irina Muntean - Romania
5) Erika Taksonya - Hungary
6) Eulalia Santos - Portugal
7) Angelika Loebardt - Germany
8) Darina Kanova - Czech Rep.
9) Branislava Jovanovic - Serbia & Montenegro
10) Miljana Pavkovic - Croatia
11) Nataliya Dichkovska - Ukraine
12) Sonia Cabre - Spain
13) Riana Beech - South Africa
14) Priscilla Fournie - Belgium
15) Ana Pires - Brazil
DNP) Yevgeniyk Kirilych - Kazakhstan
DNP) Alena Shepeleva - Russia
DNP) Tanya De Haas - South Africa


---

Fitness

Overall: Natasha Guryevskikh

Short (up to and including 160 cm)
1) Natasha Guryevskikh - Russia
2) Natalie Lenartova - Slovakia
3) Oksana Grishina - Russia
4) Tatayana Savytska - Ukraine
5) Nahalie Tabouillet - Canada
6) Olga Votchal - Kazakhstan
7) Vanessa Xyomara - Mexico
8) Vanessa Castillo - Spain
9) Elena Svejdova - Czech Rep.
10) Marield Diamond -Bolivia
11) Ilka Shwengl - Austria
12) Ludia Collart - France
13) Norma Abreu - Brazil
14) Delphine Babin - France
15) Laura Buzentenau - Spain
DNP) Karine Lafaye - France

Medium (over 160-167 cm)
1) Silvia Malachovska - Slovakia
2) Margarita Byelinska - Ukraine
3) Jana Zouzelkova - Czech Rep.
4) Atonella Ferretti - Italy
5) Monika Szekely - Hungary
6) Svetlana Kotchkina - Russia
7) Roana Muller - Germany
8) Daria Akinshina - Spain
9) Jane Prado - Brazil
10) Nora Yrjola - Finland
11) Natalya Nazarenko - Ukraine
12) Phillipa Wilkie - South Africa
13) Shizuka Nakamura - Japan
14) Picry Magali - Belgium
15) Shandinella Cornelia - Netherlands

Tall (over 167 cm)
1) Gabriela Mlsnova - Slovakia
2) Svetlana Silakova - Russia
3) Gabriella Kubesova - Czech Rep.
4) Marjo Krishi - Finland
5) Alla Sukharyeva - Italy
6) Gerda Van Essen - Netherlands
7) Erzsebet Herczog - Hungary
- Alicia Barco - Spain - originally placed 4th

* qualifies for IFBB Pro Card

Body Fitness

Overall:

Short (up to and including 158 cm)
1) Irina Khorkova - Russia
2) Elzbieta Borecka-Brzozka - Poland
3) Kateryna Zadorozhna - Ukraine
4) Vanessa Oliveira - Brazil
5) Katrin Grossman - Germany
6) Gloria Fontana - Italy
7) Silvia Capitan - Spain
8) Petra Stblova - Czech Rep.
9) Anna Markosdottir - Iceland
10) Heidi Sorsa - Finland
11) Monica Bermudez - Spain
12) Arina Manta - Australia
13) Nathalie Chabbert - France
14) Kiyoko Yamanaka - Japan
15) Olga Bazeldesova - Spain
DNP) Vanessa Oliveira - Brazil
DNP) Mihaela Ionescu - Romania

Medium (over 158-164 cm)
1) Katarina Verbovska - Slovakia
2) Diana Goytia - Germany
3) Zivile Raudoniene - Lithuania
4) Kathleen Shelby - USA
5) Patricia Criconia - Italy
6) Kataryzna Kozakiewicz - Poland
7) Jessica de Groot - Netherlands
8) Eva Rudolfova - Czech Rep.
9) Barbora Benesova - Czech Rep.
10) Olga Shilova - Russia
11) Eleni Kritikopoulou - Greece
12) Genevieve Brown - New Zealand
13) Alicia Gutierrez - Mexico
14) Maria Abellan - Spain
15) Nora Girones - Spain
DNP) Andrea Dias - South Africa
DNP) Angelica Moore - Brazil
DNP) Johanna Human - South Africa
DNP) Ana Larsson - Sweden
DNP) Carine Argould - Spain
DNP) Claudia Bendt - Netherlands
DNP) Fiona Roberts - New Zealand
DNP) Chari Guillen - Spain
DNP) Rebecca Rodriguez - Spain

Tall (over 164 cm)
1) Lenka Chalupkova - Slovakia
2) Celeste Gonzalez - Spain
3) Michala Spickova - Czech Rep.
4) Pia Johnsen - Norway
5) Inna Shelekova - Russia
6) Petra Mertl - Czech Rep.
7) Ljuba Subotic - Serbia & Montenegro
8) Irma Perez - Spain
9) Agnieszka Swankowska - Poland
10) Ela Frankova - Slovakia
11) Claudia Ferrarini - Italy
12) Laura Vazquez - Spain
13) Sofie Vanspauwen - Belgium
14) Carmen Rodriguez - Spain
15) Maria Kirsh - Russia
DNP)Tanja Arnold - Germany
DNP) Heidrún Sigurdardóttir
DNP) Dagmar Simmen - Switzerland
DNP) Esther Carmona - Spain
DNP) Oksana Danilevska - Ukrain
DNP) Corina Schuler - New Zealand
DNP) Gertruida Kriek - South Africa
DNP) Mary Lado - USA
DNP) Brigita Grof - Hungary
DNP) Marianne Dik - Netherlands
DNP) Isabella Gyorffy - Sweden
DNP) Lisa Cameron - New Zealand

Last updated: 10/26/2004 @ 1:07 p.m. PT