2004 Arnold Classic Weekend Contest Report
by Gene X Hwang - March 5, 2004
Columbus, OH , USA - This year there was extra security on hand since the namesake of the weekend has now become the Governor of California and the hype was definitely tangible with extra security on hand and press conferences here and there all weekend.
However, the main attract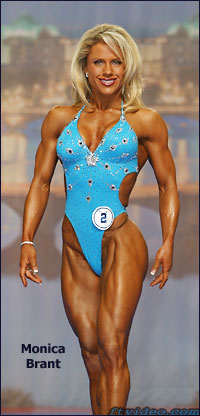 ion still remains the bodybuilding and fitness related competitions and they did not disappoint with the first big pro women's shows of the year.
The Ms. International was highly anticipated with the debut of three new pros: Annie Rivieccio, Bonny Priest and Canadian Christine Roth. All three looked comfortable on stage, and all were impressive. But in a highly competitive heavyweight class, there was so much depth that it was hard for them to stand out, especially with the incredible Iris Kyle taking the Arnold stage. Even NOC Champion Betty Viana had a tough time of it, although she wasn't quite as dry as she was at that show.
In the end though, Kyle was the best in the class and swept to first place ahead of Yaxeni Oriquen who was looking to tie Vickie Gates' record of three consecutive Arnold titles. Oriquen was on, but Kyle's superior overall balance edged her out, while Betty Pariso came in in excellent condition with a bit of a streamlined look.
Rivieccio got the loudest support from the crowd when she performed her routine, and it was obvious how much the crowd respected her perseverance and well built physique. Brenda Raganot rounded out the top five as a heavyweight instead of as originally intended as a lightweight. She was just ahead of Roth who's amazing stage presence and charisma captivated the audience and should help the sport broaden its appeal. Priest tied with Viana to wrap up the heavies.
In the lightweights, Sophie Duquette presented possibly her best physique ever. With crisp shapes and lines, Duquette added some size and thickness in her upper body and as always presented herself impeccably with grace and stature. She was beaten out though, by fellow Canadian Dayana Cadeau and the duo bested the always improving Denise Masino who's been pushing for class titles in almost all of her most recent competitions. Angela Debatin is usually more competitive, but seemed to be off on her diet slightly and her compatriot Fanny Barrios was fifth in the class.
In the overall, it was all Kyle again, as she showed why she's one of the top physiques in the sport and it was good to see her winning a deserved victory and making a strong statement that she will once again be pushing to oust Lenda Murray as Ms. Olympia.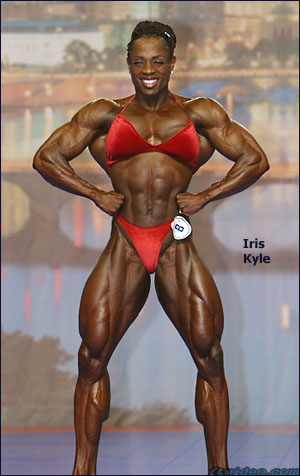 A new era in fitness was beginnning with the retirement of Susie Curry from fitness and an open title awaited favorites Kelly Ryan, Adela Friedmansky and Jenny Hendershott. However upstarts Julie Palmer and the always pressing Stacy Hylton would also be there pushing the top three. In the end, the judges awarded the Fitness International title to Friedmansky, while Hendershott's routine was the crowd favorite and Ryan and Hylton's were just a bit behind.
Kim Klein is also making waves and her routine was impressive and tied for third with Friedmansky's. Tracey Greenwood wasn't able to repeat her Jan Tana showing and ended up in eigth. Stacy Simons once again brought an amazing physique, but she was not rewarded for it. Tanji Johnson also looked incredible showing her physique at it's best with a nice v-taper. The newest pros in fitness didn't fare as well as the heavyweight bodybuilders but they will definitely improve with more competitions under the belt.
Would 2004 be the year for Monica Brant to win a figure title or would Jenny Lynn defend it against her? That was the question on many peoples' minds as the Figure International competitors took the stage. Right from the start, the judges called the two out and with them were Susie Curry making her debut in figure and the fast rising Jamie Franklin.
Lynn looked good, but to many in the audience it seemed like this could be the year for Brant. Her physique was impressive as always, and Lynn looked a bit softer than her. Of course in figure, that can be a negative at times, and it may just have been the case this year and Lynn was successful in edging Brant again.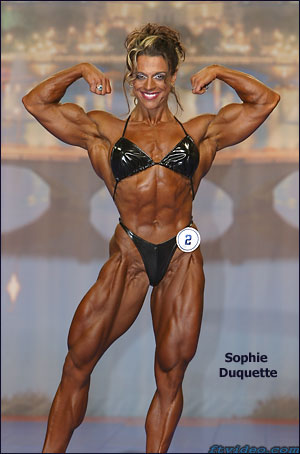 DJ Wallis looked amazing, but didn't seem to get the deserved callouts, and could have pushed Brant and Lynn but she ended up in fifth behind Franklin. Curry ended up in third, and Mari Kudla-Donnelly placed sixth. Kudla was just a shade off her late 2003 season form, where she was making strong advances on the top five.
Another Jan Tana champion, Dina Al-Sabah also didn't place the same at this competition with the tiny-waisted Al-Sabah placed seventh which of course is an impressive finish in such strong company, and fan favorite Elaine Goodlad trailed her in eigth.
Sharon Kouvarais again was lean and very tight, but maybe too much so for the judges as she didn't crack the top six.
---
The Expo and beyond...
Every year the Expo seems to get bigger and there are more and more tertiary events and this year saw fencing and table tennis added to the roster of physically demanding events. Luckily, this reporter came in shape for the table tennis competition and may choose to compete next year.

On the serious side, there were many powerlifters and some records were challenged and some other impressive performances were made. In the World Powerlifting Association's event, Julie Scanlon benched over 400 pounds (429.7 lbs) but broke her arm completing the lift (successfully too) and along with her 600.7 lb. squat, had a strong combination before the deadlift, but with a broken arm, it didn't look like she'd be able to do the three lifts, but Scanlon lifted the bar with one arm along with a couple of fingers from her broken arm. Additionally, Becca Swanson had an admittedly good day although we were not able to see her lifts.
Milling about the expo were many celebrities within the sport and many more future stars. Look for more information in the full Expo report, but look out for more on such incredible athletes as Lisa Aranda and Natalie Barnett.
Results

Ms. International Bodybuilding

Overall: Iris Kyle

Lightweights
1) Dayana Cadeau
2) Sophie Duquette
3) Denise Masino
4) Fannie Barrios
5) Angela Debatin


Heavyweights
1) Iris Kyle
2) Yaxeni Oriquen
3) Betty Pariso
4) Annie Rivieccio
5) Brenda Raganot
6) Christine Roth
7 tie ) Betty Viana
7 tie) Bonny Priest


Fitness International

1) Adelina Friedmansky
2) Kelly Ryan
3) Jenny Hendershott
4) Julie Palmer
5) Stacy Hylton
6) Anna Level
7) Kim Klein
8) Tracy Greenwood
9) Tanji Johnson
10) Stacy Simons
11) Angela Semsch
12) Carla Freda


Figure International

1) Jenny Lynn
2) Monica Brant
3) Susie Curry
4) Jamie Franklin
5) D.J. Wallis
6) Mari Kudla-Donnelly
7) Dina Al-Sabah
8) Elanie Goodlad
9) Sharon Kouvaras
10 tie) Amber Littlejohn
10 tie) Christina Forlifer
12) Monica Guerra
13) Christine Bergeron
Last updated: 3/11/2004 @ 10:56 a.m. PT