2003 Olympia Weekend Report and Free Photo Gallery
2003 Olympia Weekend
by Gene X Hwang - October 24, 2003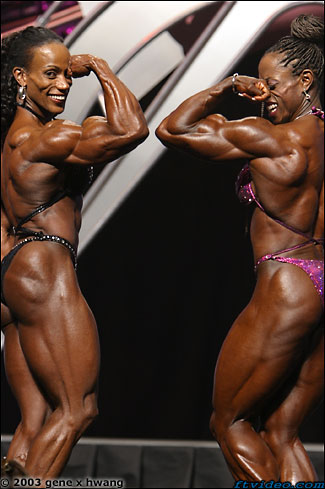 Las Vegas, NV, USA - The biggest competitive weekend of the professional competition season lived up to its name once again, and the worlds top bodybuilders, fitness athletes and figure competitors descended upon Sin City to duke it out for the sports most presitgious titles.
The Figure Olympia made it's debut and coming into the show, the buzz was whether Monica Brandt could take the title after Jenny Lynn had edged her out of the Figure International title at the Arnold Classic earlier in the year. Of course since that show, Dina Al-Sabah and Devana Medina had both come into the show with impressive momentum, and DJ Wallis had some strong showings coming into the O.
The callouts in all the rounds indicated that it would be between the trio of Lynn, Medina and Brant for the title. Brant looked improved from her Arnold conditioning, while Lynn appeared to be a bit softer. However, it was Medina who surprised everyone by winning the inaugural Figure Olympia title, and establishing the ideal figure physique.
Outside of that top three, it was Mari Kudla who took fourth, and was much improved from her Arnold shape. With added size throughout, she looked good, but still has some room to tighten up her conditioning. Al-Sabah followed Kudla and may have suffered a bit from later callouts in the first round, the one-piece round, while she excels in the two-piece.
Overall, the competition was definitely very tight, and some of the leaner competitors were once again penalized. Sharon Kouvaras was ripped, and possesses excellent calves, but may have been the most overlooked athlete. Hannah Park also displayed strong legs, and Jamie Franklin's back development was her strength. It will be interesting to see how the judges continues now that Devana Medina's physique has set the baseline and if that same structure will be rewarded at the lower levels as well.
The Fitness Olympia was buzzing with hometown favorite Kelly Ryan making a strong push to oust Susie Curry, who was making her final Fitness Olympia appearance. Of course Adela Friedmansky, Jenny Hendershott and Jenny Worth are all contenders who could challenge Curry along with rising stars like Stacy Hylton and Tracey Greenwood.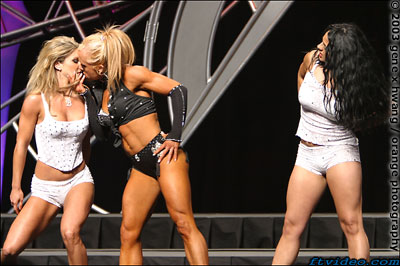 The stage was set early with Ryan's improved physique earning her higher callouts against the top women. Anna Level, who's physique is very strong, but who's routines are not at the same level, was in the mix in the one and two-piece rounds, but once again, the strength of the other routines pulled her down to sixth. Jenny Hendershott's routine broke new ground with perhaps her most memorable performance.
That is saying a lot considering how impressive her routines always are and she did not disappoint. Coming out with Carrie Fickle and Trisha Rich, Hendershott's routine emulated the MTV Video Music Awards performance including the kisses.
Stacy Hylton's routine was amazing too, with impressive strength moves, tumbling, and a good bit of humor mixed in. Klaudia Kinska performed a classy, elegant routine, but her conditioning was off while Kim Klein's Olympia debut was met with strong applause when she performed her routine which incorporated many impressive strength moves.
Curry was tight though, and although Ryan's routine was one of the best, Curry held onto her fourth Fitness Olympia title. Ryan lost ground once again in the 45-second routine round, where some of the judges had placed her as low as 10th. That round seems to be making quite an impact on a lot of results but Ryan can have consolance in knowing that next year, she will have to be one of the favorites to take the then-vacated title.
Tracey Greenwood had to perform her 45-second routine to another competitors music because of technical difficulties with her music. Regardless, she did a great job, and many of the other athletes came out from behind the curtain to support her, which was a nice sight to see, considering the fact that most of the Olympia press conference was about how some of the competitors were inappropriately posting to message boards online and stirring things up. Of course that's the men primarily...
---
On to the Ms. Olympia, and the smart money was probably on Juliette Bergmann and Lenda Murray to win their classes, but everyone had to know that they would both be pushed hard again this year.
In the lightweights, Cathy Priest, Denise Masino and Dayana Cadeau all were in contention to oust Bergmann, but it was not to be. Bergmann was not in great shape, and she had taken the stage in much better shape and conditioning before so there was a round of boos when Masino was named in third place, and again when Cadeau was announced in second.
Priest looked strong too, although both Masino and Cadeau were both more muscular and conditioned. Angela Debatin and Fanny Barrios trailed, placing 5th and 6th respectively. Kim Harris took 7th, while Rose Jennings was 8th. Jennings was also being taped for National Geographic who chose to follow her around during her contest prep all the way through the finals.
For many, it was the heavyweight class they were waiting for, and out first was hot rookie Helle Nielsen. Nielsen, fresh off her Jan Tana domination, came out on stage looking very impressive, with her unmistakably shredded legs, and European demeanor.
Nielsen placed fifth but was ecstatic and will be focusing all her efforts on the 2004 Olympia. Out next was Yaxeni Oriquen who according to the poll on FTVideo.com, was the fan favorite to take the title. Oriquen was sharp, but with athletes like Lenda Murray and Iris Kyle in very sharp condition, Oriquen would have to be pleased with her third place finish.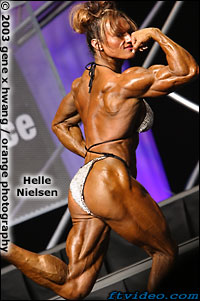 She didn't look quite as full as she has previously, but then again, Kyle and Murray were both sliced. Murray had fielded a question during the press conference about how she felt about winning last year, although Iris Kyle may have had better body parts on an individual basis, and her response focused on the total package, which IFBB Chairman Wayne Demillia seconded. That must have been the case again this year, as Kyle pushed Murray in each individual bodypart, but on the whole, Murray's package was once again crowned the best in women's bodybuilding, and that made it eight for her.
Murray is now the greatest bodybuilding champion of all time, and considering that, Kyle should not feel too bad about her placing. Venezualan Betty Viana looked almost cartoonish in her proportions and curves. Although not quite as sharp with her conditioning, her presence and full muscle bellies are always impressive and Viana brought good energy to the stage. With a bit less water, she is another who can challenge for the Olympia title.
Vickie Gates announced her retirement during the weekend, and the emotion of that was visible. The always emotional Gates wasn't as sharp as she has been in the past, but the 20 -year veteran of the sport still displayed class and offered herself to be a voice for the women as an athlete representative for the IFBB. Another woman who could be in that same position was Betty Pariso, who this year became the oldest woman to compete at the Olympia at 47 years. Not only that, she was also the heaviest competitor on stage at 169.5 lbs. Ripped and with her signature thin skin, Pariso had fun on stage, and her impressive trap development and Matarazzo-like posing was a hit with the fans.
---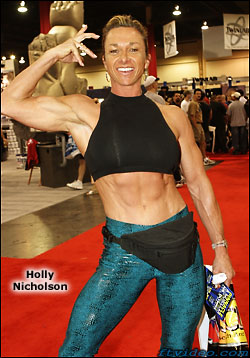 Being the biggest show of the year, the crowd also had impressive faces in it, with many people dieting just to watch the show, and there were plenty of great physiques on display.
Some pros like Jennifer McVicar were also on hand, and McVicar looked very good. She is training in preparation for the 2004 Ms. International at the Arnold Classic, while Karina Nascimento has promised to blow everyone away when she takes the stage at the Figure International moving to that class from bodybuilding.
Look for a report on the expo, new faces and of course we'll be posting some photos of some of the athletes who were there to watch. At left is Holly Nicholson who will be doing a show in Las Vegas in four weeks. Other new faces to keep an eye out for include Jen Wiseman and Jamie Shires.
Results

Ms. Olympia

Champion: Lenda Murray

Lightweight
1) Juliette Bergman
2) Dayana Cadeau
3) Denise Masino
4) Cathy Priest
5) Angela Debatin
6) Fanny Barrios
7) Kim Harris
8) RoseMari Jennings


Heavyweight
1) Lenda Murray
2) Iris Kyle
3) Yaxeni Oriquen
4) Betty Viana
5) Helle Nielsen
6) Betty Pariso
7) Vickie Gates

Fitness Olympia

1) Susie Curry
2) Kelly Ryan
3) Adela Friedmansky
4) Tracey Greenwood
5) Jenny Hendershott
6) Anna Level
7) Klaudia Kinska
8) Stacy Hylton
9) Julie Palmer
10) Jenny Worth
11) Kimberly Klein
12) Stacy Simons
13) Shannon Meteraud
14) Kary Odiatu


Figure Olympia

1) Davana Medina
2) Monica Brandt
3) Jenny Lynn
4) Mari Kudla
5) Dina Al-Sabah
6) Jamie Franklin
7) D.J. Wallis
8) Aleksandra Kobielak
9) Sharon Kouvaras
10) Hannah Park
11) Elaine Goodlad
12) Theil Bradford



Mr. Olympia

1) Ronnie Coleman
2) Jay Cutler
Last updated: 10/26/2003 @ 7:47 p.m. PT