2003 Jan Tana Classic Report and Free Photo Gallery
2003 Jan Tana Classic
by Gene X Hwang - August 16, 2003
Charlotte, NC, USA - The press conference on Friday was a good sign for the weekend when IFBB Pro Shawn Ray offered up a $1000 prize for the Master's Olympia Men for the best poser and Steve Wennestrom immediately backed up the women bodybuilders with a matching $1000 prize for the women's bodybuilding best poser.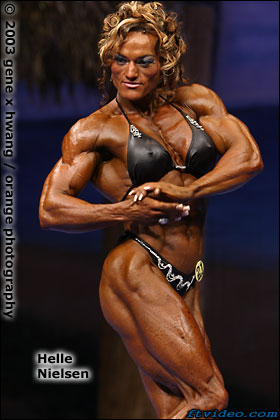 Then Masters Olympia competitor Ken Jones added $1000 for the women's bodybuilding overall champ. There was also an additional best routine award for $500 from Dan Solomon, and SciTec at the very end of the press conference kicked in $1000 more for the figure overall. If anything, it showed the continued strong support for bodybuilding, fitness and figure (and in that order, interestingly enough).
With competitors from 27 countries and the largest field ever, it was set to be a competitive weekend, and the winners were all strong champions.
The biggest impression may have been made by Helle Nielsen who was making her pro debut and was the hands down class and overall winner with amazing definition, dense muscularity, and some of the best legs seen on the pro stage.
From Denmark, Nielsen had both the fans and audience immediately entranced, but Beth Roberts and Maria Calo-Wallace were both very strong. However, Nielsen's supreme conditioning with striations in her glutes, and just about everywhere else, was too much to overcome. Calo-Wallace presented her best physique ever, bringing down her waist and presenting a nice, more aesthetic package while Roberts continues to improve as a pro, and looked bigger and thicker throughout and her Terminator routine was a great way to wrap up the posing round.
Germany's Susanne Bock was very nicely conditioned and defined but compared to the top three, she wasn't quite full and thick enough - a strong debut at the Jan Tana nonetheless. Sharon Robelle had toned down a bit from previous competitions and looked nice, but wasn't quite hard enough. Another German, Annett Wittic was the heaviest competitor at 169 lbs., and she has a very elegant, European style about her. A bit light in color, she just needs to come in darker, and with a bit more fullness on her frame, since she was also one of the tallest competitors. Keep an eye out for Wittic, as she seems to have a promising future.
Merete Horness placed 7th and Carmella Key, who had some of the fullest calves on stage, rounded out the class.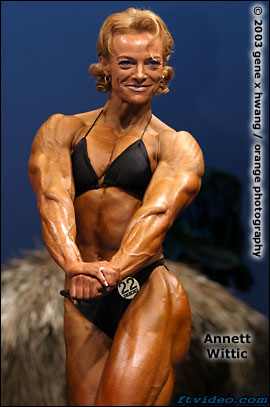 In the middleweights, Dayana Cadeau continued her strong placings and edged out Mah-Ann Mendoza for the class title. Mendoza could have been a bit harder to have beaten out Cadeau, but Vilma Caez, who won the best poser award also was pushing her, with a very tight package, that just wasn't quite as aesthetic as Mendoza or Cadeau. Brazilian Monica Martin looked classy and exotic as always and she edged Christine Envall who made the move down to the middleweights. Although her color was a bit off during prejudging, she was extremely tight, and was the only other woman with striated glutes.
Jeannie Paparone was off and not quite as crisp as she could be, and in the pro ranks, that meant she didn't make the top five, but still looked strong ahead of Italian Claudia Bianchi. Bianchi's upper body is impressive and she was extremely lean. New pro Antoinette Norman took 8th with a very entertaining routine and brings a very positive energy to any show she competes in.
The lightweights were the smallest class in the number of competitors, but the top four were all amazing. You could have made a strong argument for any of them to have taken the class, but the more hardcore physique and conditioning that Angela Debatin brought was the judges choice. She was the hardest competitor on stage, and always brings in a strong and consistent physique.
She was followed by Joanna Thomas who made her return to the Jan Tana stage and looked strong with her amazing lines, shape, upper body and aesthetics. She has one of the nicest v-tapers and her biceps are always stunning. She wasn't as crisp as should could be, and when she hits her diet right, it would be hard for anyone in any class to challenge her.
Third went to North Carolina's own Mary Ellen Doss who was more full and muscular than Susanne Niederhauser who came in fourth. Niederhauser has one of the most unique physiques and her front lat spread with her legs standing apart is an awesome pose that shows off that physique amazingly. While she always seems to look a bit smaller than the other competitors, she has a wide variance in her shoulder to waist ratio. Veteran Mary Ellen Jerumbo rounded out the class with typical class and energy. The always bubbly Jerumbo was very lean, and is one of the most consistent competitors ever at the Jan Tana.
---
Fitness was impressive from the start with 27 competitors and although there were several top fitness stars that chose to compete in figure, there was no doubt that the level of competition was strong. While fitness numbers are down in the amateur ranks, it's still going strong in the pros.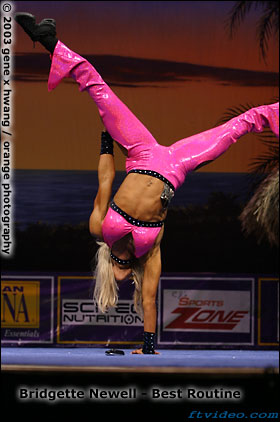 Though there may be a lot of ambiguity in fitness judging, the athletes continue to defy it and present themselves as best they can. Dr. Tracey Greenwood ended up taking the show and she continues to be one of the hottest fitness athletes placing very strongly in the physique rounds, and improving in her routines.
Bridgette Newell won the routine round (and $500 bonus prize) ahead of Stacy Hylton, an impressive feat, and deserving as well. While some competitors use props in creative ways, some of them use them as crutches and perform strength moves with them where their feet may have otherwise touched the floor. Additional credit is definitely due to those athletes who can do them flawlessly. The 45-second round is where some of those assessments are to be made, although looking at some of the scores from that round can be a bit confusing based on how the athletes performed on stage.
Third and fourth in the routine round went to the fitness twins, Natalie Carroll and Adria Klein, respectively. While their routines are no doubt very entertaining, some of the strength moves they perform weren't quite as impressive as some others who placed lower. Just behind them was Kimberly Scheidler-Klein who was the final Olympia qualifier and looked sharp in all the rounds to place third overall.
Fourth went to Tanji Johnson who made her return to competition after her torn achilles. While it still isn't 100%, Johnson is to be commended for making her comeback and overcoming such a challenge. Another victim of injury was Jennie Hanke who still managed to finish in 15th place even though she suffered a dislocated shoulder during her routine and could not complete it. Looking very buff and with strong calves to boot, it was disapointing to everyone when she went down. The crowd gave her a deserving standing ovation after she was stretchered off backstage.
Lisa Reed took 5th and her physique continues to improve. Reed's momentum seems to be building, and she was a deserving top five athlete. Julie Childs followed her and Russian Iveta Statsenko was in 8th. Statsenko has a very nice physique with a tiny waist and nice V. Other new faces included Debbie Czempinski from Australia who was hard and lean, with some very nice abs along with a strong routine. Peggy Sue Crawford had some smooth and creative transitions in her routine, and Angel Friend's handstand walk up the stairs was also notable.
Carla Sanchez looked great, and she no doubt may have picked up some new clients as the Colorado fitness guru continues to impress and Beth Horn's funky flips into handstands were memorable as well as Kimberly Lyons' attempt at skateboarding to wrap up her routine.
---
Figure made it's Jan Tana debut and it was Dina Al-Sabah who had pole position and took it all the way to the title. As the first competitor on stage, it was immediately apparent that the competition was going to have to do a lot to unseat the excellent genetic structure and shape that Al-Sabah has refined.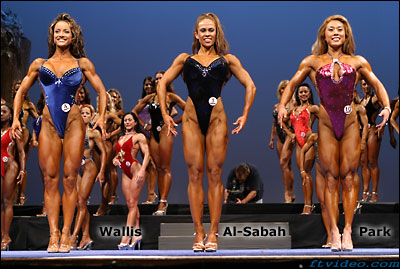 Under the guidance of Roger Semsch, Al-Sabah keeps gaining momentum going into the Olympia. She was pressed though by DJ Wallis who kept improving throughout the competition, but it wasn't enough. Both Al-Sabah and Wallis were very well conditioned and it's good to see the more defined competitors being rewarded.
Workhorse Hannah Park, who's been dieting and competing for eight months, took third and will be focusing hard on the Olympia, and showcased some of the nicest quads on stage. Theil Bradford is challenging Park for that title though with nice separation in her quads as well. The very cute Bradford was nicely defined and just needs a little more fullness to move up.
Aleksandra Kobielak was one of the previously mentioned fitness competitors who made the switch to figure and her fifth place finish will see her in Vegas too. Stephanie Worsfold was another crossover athlete, but she admitted after the show that she'll be returning to the fitness stage. Worsfold barely made the show because of the blackouts and there were two competitors that didn't even make it because of them: Shaunta Teeters and Kristin Ezzo, which must have been crushing for both athletes after all of their preparations.
Elaine Goodlad followed in 6th place even though she was sick and presented a strong physique. Christine Wan took 7th and Andy Breuning followed in 8th.
Allison Williams has a tiny waist and some of the nicest genetics on stage, but wasn't quite hard and full enough. Lisbeth Halikka was full of positive energy although it may have cost her as her creative posing flair might have been a little too creative for the judges.
Christine Pompano-Pate looked fantastic with full shoulders and arms and nice thickness throughout. If she comes in a bit tighter and leaner, she definitely can't be left out of the top ten while Mascha Tieken was another overlooked competitor with excellent v-taper and shape. Renee Masi looked sharp again, but the mixed messages the judges have been sending have perhaps impacted her worse than many other figure athletes, which is unfortunate but it's good to see that she has not let it get her down.
---
NPC show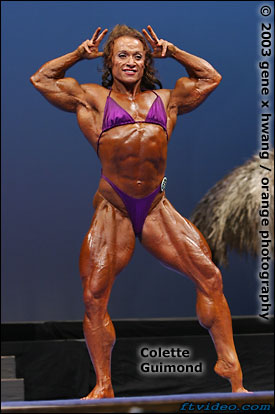 As always, the amateur show had some impressive athletes and in the heavyweight bodybuilding in particular. Overall winner Colette Guimond edged out Trudy Ireland for the class win and her mass and conditioning were truly impressive. Aside from her delts which were seriously injured, her physique was detailed and tight throughout. Ireland was also in great condition, but just didn't have the overall mass to match up to Guimond.
The lightweight class saw the return of Lisa James who once again took the class, and is looking forward to competing on the national stage. Wendy Jandt followed James, and Chrissie Reeky at 98 lbs. rounded out the class. Reeky looked great and was very lean and presented a nice package that at under 100 lbs, definitely looked like more.
The middleweights was won by Pamela Rogers who was more balanced and thick than Joy Henderson. Henderson had nice delts, and very nice deep abs. Robin Pitcock was sharp too, and managed third.
Fitness only had one short and one tall class competitor, but it was Laura Benton who edged out Mandy Pope to win the overall based on her tight, lean conditioning and muscularity.
In figure, Michelle Hutton won the short class ahead of Carla Jones who has a tight waist and back and perhaps the best natural aesthetic of the class. Heather Craven showed good shape, shoulders and the best muscularity of the group, and placed third while Jodi Glenn's abs were notable too.
In the tall class, Michelle Fisher was tight and has a tiny waist, but didn't have as much muscle and will need to add a lot to move up to the national level. She beat out Marcia Voss who looked much more full and her muscularity looked like it may have been better fitted to win the class, but she was not as lean. Abby Ayre was probably the judges favorite, but because she did not know how to best showcase her physique, dropped to fourth. Ayre resembles Jenny Lynn and was hard as well. Pamela Mueller took fourth and Christy Harbaugh completed the top five.

Results

Pro Women's Bodybuilding

Overall: Helle Nielsen*

Lightweights
1) Angela Debatin*
2) Joanna Thomas
3) Mary Ellen Doss
4) Susanne Neiderhauser
5) Mary Ellen Warman

Middleweight
1) Dayana Cadeau*
2) Mah-Ann Mendoza
3) Vilma Caez
4) Monica Martin
5) Christine Envall
6) Jeannie Paparone
7) Claudia Bianchi
8) Antoinette Norman

Heavyweight
1) Helle Nielsen*
2) Beth Roberts
3) Maria Calo-Wallace
4) Susanne Bock
5) Sharon Robelle
6) Annett Wittic
7) Merete Horness
8) Carmella Key


* qualified for Ms. Olympia

---

Best Poser: Vilma Caez

Pro Fitness

1) Tracey Greenwood*
2) Stacy Hylton*
3) Kimberly Klein*
4) Tanji Johnson
5) Lisa Reed
6) Julie Childs
7) Iveta Stasenko
8) Bridgette Newell
9) Claire Morris-Parmley
10) Carla Sanchez
11) Debbie Czempinski
12) Beth Horn
13) Natalie Carroll
14) Adria Klein
15) Jennie Hanke
16) Lisa Uzzle
17) Peggy Sue Crawford
18) Kim Lyons
19) Angel Friend
20) Elizabeth Maurice
21) Abbie Apel
22) Lynsey Beattie-Ahearne
23 tie) Maria Luara Cerbelli
23 tie) Stacy Wig
23 tie) Aprille DeShield
23 tie) Graciela Grisel Floresii Victoria
23 tie) Aymara Munoz

Best Routine: Bridgette Newell

* qualified for Fitness Olympia

---

Pro Figure

1) Dina Al-Sabah**
2) D.J. Wallis**
3) Hannah Park**
4) Theil Bradford**
5) Aleksandra Kobielak**
6) Elaine Goodlad
7) Christine Wan
8) Andrea Breunig
9) Monica Guerra
10) Christina Forlifer
11) Allison Williams
12 tie) Renee Masi
12 tie) Amy Yanagisawa-Wilkins
14) Christine Pompano-Pate
15) Tammie Leady
16) Mavis Tozzi
17) Lorenza Cozza
18) Stephanie Worsfold
19 tie) Jennifer Theil
19 tie) Alejandra Abdad
19 tie) Allison Bookless
19 tie) Sharon Christian
19 tie) Lisbeth Halikka
19 tie) Susanne Steurer
19 tie) Leslie Russell
19 tie) Celeste Chance
19 tie) Mascha Tieken
19 tie) Danijela Crevar
19 tie) Ildiko Kalli
19 tie) Michelle Sharp
19 tie) Carrie Fickle

** qualified for Figure Olympia

Amateur Show

Bodybuilding

Overall: Colette Guimond

Lightweights
1) Lisa James
2) Wendy Jandt
3) Chrissie Reeky

Middleweight
1) Pamela Rogers
2) Joy Henderson
3) Robin Pitcock

Heavyweight
1) Colette Guimond
2) Trudy Ireland

---

Figure

Overall: Michelle Fisher

Figure Short
1) Michelle Hutton
2) Carla Jones
3) Heather Craven
4) Jodi Glenn
5) Shay Ann

Tall
1) Michelle Fisher
2) Marcia Voss
3) Abby Ayle
4) Pamela Mueller
5) Christy Harbaugh


---

Fitness

Overall: Laura Benton

Short
1) Laura Benton

Tall
1) Mandy Poe
Last updated: 8/18/2003 @ 5:43 a.m. PT