2003 Arnold Classic Weekend Report and Free Photo Gallery
2003 Arnold Classic Weekend
by gene x hwang - February 28 - March 1, 2003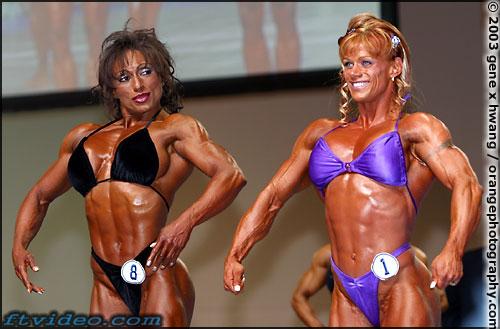 Columbus, OH - Snow swept over Columbus, but the cold was kept outside as the tens of thousands of competitors, athletes and fans that poured into the city warmed things up for the 15th anniversary edition of the Arnold Classic weekend.
With the introduction of Pro Figure, there was much anticipation in the crowd as the prejudging started on Friday, which was dedicated to the female competitors. Many were anticipating the return to the competitive stage of Monica Brant, and the popular former Fitness Olympia champion did not disappoint. Showcasing her fantastic shape, Brant was in the first call outs, but it was Jenny Lynn who stole most of the spotlight. With a tight, lean and well-balanced physique, Lynn got called out first, with Brant following, and Davana Medina rounding out the first trio.
Because this was the first time figure had been judged in the pro ranks, it was interesting to see what the judges would be looking for. Since it's inception, figure was essentially judged as was fitness, without the routine round. However, when the callouts continued, that was not quite reflected. In the second callout was Kristy Robbins and Mary Kudla made the third callout. Both have excellent lines and shape, but were not as tight as Lynn, most notably. Medina's lines almost mirror Lynn's but Lynn was harder. Both Kudla and Robbins were some of the softer competitors, but the judges rewarded their shape.
Of course being the first competition, it was not a surprise to see variances in the judging, but it will be interesting to see how it will evolve. In the final tally, Lynn took the class, followed by Brant and Medina, with Kudla and Robbins taking fourth and fifth respectively. Following them was Elaine Goodlad who looked strong from the back and noticeable muscularity and excellent shape. Jamie Franklin took seventh and was very sharp too, with both Goodlad and Franklin coming in hard and tight, much like the physiques that would later be rewarded in the Fitness International.
Sharon Christian came in eighth, followed by Lesli Russell, who was well defined and sleek, with Patty Garner edging out a ripped Lena Johannesen. Adrian Chastain followed in 12th and Renee Masi completed the group. Overall, the judging seemed to vary with definition not being a consistent requirement as much as it is in fitness. With a plethora of pro cards available this year, the competition should get more interesting as the judging evolves, and hopefully settles in on a true ideal. In the end, however, Jenny Lynn was a very deserving winner, and if her physique is the ideal, then figure should be off to a good start.
Fitness International
It was now time for the fitness competitors, and the Expo hall where prejudging was held was packed with a sea of fans crowding for many, many rows around the three open sides of the stage. Once again, the favorites would be the usual suspects: Jen Hendershott -would it finally be her year to win a much-deserved title?; Susie Curry - the definding champion and reigning Fitness Olympia; Kelly Ryan - looking harder than and tighter than ever; or Adela Friedmansky - always knocking on the door, but would it be answered with a trophy for her finally?
With the two-piece round kicking things off, it was Curry, Friedmansky and Anna Level making the first callout and Kelly Ryan and Stacy Hylton making the second. Tracey Greenwood was added in the next round and Shannon Meteraud, Amanda Doherty and Stacey Simons comprised the fourth callout. Hendershott was finally called out the next round, but it wasn't until the sixth callout that Kelly Ryan's name was announced.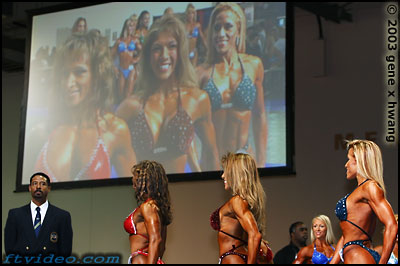 As it was, Friedmansky took the round, edging out Curry by a point, and Hylton took third by a point over Level. After the two-piece round concluded, the 45-second routine round wrapped up the prejudging, and Kelly Ryan took the round as well as the full routine round later during finals. One problem with the 45-second round seems to be that the judges are able to judge them all the way from first through last, although at the level the athletes are at in pro fitness, it's very hard to be able to say that many of the competitors are that much better than each other. Essentially, it seems like there might actually be several ties, or levels of rankings. There might be the top tier women who all get an 'excellent' rating, then a second tier that could be 'good' and then a third level 'satisfactory' and perhaps in certain cases (due to injury or what not), a 'incomplete.' In this sort of rankings, the points gap wouldn't be so great since those who performed their mandatories in a sufficient manner would get one rating, and so forth.
As it turned out though, the full routine round scores are often fairly close to the 45-second round scores. Ryan won both rounds, and Hendershott took second in the full routine, and Curry took second in the 45-second round. The full routines were impressive once again, and Stacy Hylton has really come into her own. Even last year, Hylton's routines were impressive, and the judges are recognizing her ability now. Of course with the likes of Ryan, Hendershott and Friedmansky in the mix, it's a tough one to sort out, but always a crowd pleasing portion of the competition. New pro Nicole Rollolazzo, known for her entertaining routines and tumbling moves, didn't quite nail her routine in her pro debut, but still was impressive, netting sixth place behind Ryan, Hendershott, Curry, Friedmansky and Hylton respectively.
Stacy Simons showcased her signature flexibility and had a strong routine throughout, while Laura Mak's return from injury wasn't evident in her routine, which placed just behind Simons in eighth. Almost all of the competitors were solid, with Australian Amanda Doherty perhaps showing some nerves and tentativeness during her routine.Of note was Shannon Meteraud, who was sick during the week and even during the competition, but still managed to place tenth overall in the competition. With her daughter getting sick and then catching the virus from her, Meteraud was a true pro having to drive down to Columbus because of her sickness (and subsequently not being able to make her flight) just in time to compete while still sick and looking damn good.
As the one-piece round wrapped things up, Susie Curry once again took the title, and Arnold had to ask her how she keeps coming back and win in an almost Terminator-like fashion.
Ms. International Bodybuilding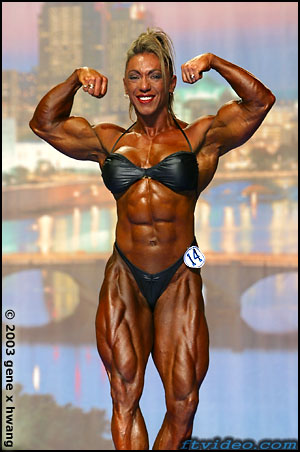 All that was left were the bodybuilders and surprisingly enough, this time there were more lightweights than heavyweights, and the Arnold debut for some. The ten lightweights took the stage first, and an impressive lineup greeted the packed house.
First out was Cathy Priest coming in sliced and tight. In perhaps the best shape of her career, whe was followed out by Denise Masino, who was in arguably her best shape ever as well. Both women were impressive as was Karina Nascimento, who was making her pro debut. Although Nascimento did compete as a lightweight, she stated her desire to compete in the future as a heavyweight, so keep an eye out for that.
Former Ms. Olympia Valentina Chepiga and top pros Angela Debatin, Fanny Barrios, Mah-Ann Mendoza and current Jan Tana champion Nancy Lewis were also in the ranks. The ever consisten Dayana Cadeau and fan favorite Yaz Boyum rounded out the class.
In the end though, Priest took every round but the routine round, and by then, had amassed such a lead that Masino was too far behind to catch up. From the back, Masino looked very thick and wide, but Priest's overall conditioning won out. Nascimento scored from second to fourth in every round, and edged out Cadeau for third, just missing out on the Olympia qualification spot.
Chepiga followed Cadeau and while her lines and shape may be the best of the group, she was not hard and thick enough to place higher. Barrios was tight and cut up and edged out Nancy Lewis, who didn't come in as well as she did when she won the Jan Tana. When Lewis dials it in, she's almost unstoppable, but it wasn't in the cards for her this time around. In what could have been considered a surprise, Debatin placed 8th, while many would have suspected her to be a top five finisher as she usually is in other shows. Perhaps the toll of competing so much had taken itself on her, as she did not look like she was 100%. Mah-Ann Mendoza was solid and full, but unable to crack the top eight, and finished ahead of Boyum, who is always an entertaining competitor, but was not in hard enough condition to challenge for the lightweight crown.
The class overall though, was solid throughout with good depth and impressed the entire crowd, who sometimes couldn't believe that it was just the lightweights.
That is, until the heavyweights did come out and with Heather Foster and Betty Pariso leading the class out, there were gasps and gawking from the mixed crowd gathered in the Expo hall.
Defending champion Yaxeni Oriquen took the stage, and it looked like she would also "be back" like Curry to defend her title, and while perhaps not as full as in other competitions, she was definitely the class of the heavyweights and swept every round to dominate the class, and eventually win the overall Ms. International title.
The always improving and ultra-muscular Betty Pariso continues to amaze, especially at her age, and looked incredible, with deep cuts, and being shredded to the bone almost. She easily took second ahead of the much-improved Brenda Raganot who looked very impressive and elegant on stage. For a change, Vickie Gates did not make the top three, and was relegated to fourth this time around. Is her time fading now? From the looks of things, Gates hasn't seemed to improve her physique as much as many of the other athletes, so while she is still one of the top pros, the others are catching up, and many are surpassing her as Raganot proved this year.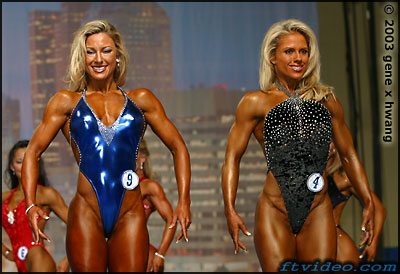 Heather Foster has always had promise, and as a pro, has not seemed to be able to pull it all off and come in her optimal condition. While there may be a variety of factors for that, including some medical issues, Foster does not allow that to be an excuse. The always bubbly Foster looked markedly improved during the evening finals, but at that time, it was almost too late. However, her routine and presence on stage were sparkling and it is only a matter of time before we see the best from her.
Local Gayle Moher took sixth and was well-balanced although in the heavyweight class, looked a bit smaller especially since her competitor number meant that she had to stand between Pariso and Oriquen - something that would have been tough for anyone, let alone one of the shorter heavyweights. That being said, her sixth place finish was more than respectable as she edged out Kim Harris and Lisa Aukland.
Harris' poise and presence on stage is solid, but she, like Moher, looked like she may benefit from dropping down to the lightweights, while Aukland looked very lean and defined, but with the deep talent in the class, was just not able to creep up higher in the rankings.
In the end, though, Oriquen was a very deserving champ, and when Arnold was interviewing her after she took the overall, in her broken English, Oriquen described how she made improvements on her house last year with her winnings, but wanted to produce a film called the "Yaxenator" with this year's prize money, to which Schwarzenegger quipped, you almost talk like me (referring to her accent-laden English).
Results
(competitor #s follow their names)

Ms. International Bodybuilding

Overall: Yaxeni Oriquen

Lightweights
1) Cathy Priest* (#1)
2) Denise Masino (9)
3) Karina Nascimento (8)
4) Dayana Cadeau (4)
5) Valentina Chepiga (6)
6) Fanny Barrios (10)
7) Nancy Lewis (2)
8) Angela Debatin (3)
9) Mah-Ann Mendoza (7)
10) Yaz Boyum (5)

Heavyweights
1) Yaxeni Oriquen (14)
2) Betty Pariso (12)
3) Brenda Raganot (15)
4) Vickie Gates (18)
5) Heather Foster (11)
6) Gayle Moher (13)
7) Kim Harris (17)
8) Lisa Aukland (16)

Fitness International

1) Susie Curry (14)
2) Adela Friedmansky (10)
3) Kelly Ryan (2)
4) Stacy Simons (4)
5) Jenny Hendershott (11)
6) Tracey Greenwood (7)
7) Anna Level (6)
8) Stacy Simons (4)
9) Nicole Rollolazo (9)
10) Shannon Meteraud (5)
11) Lisa Reed (3)
12) Laurie Vaniman (8)
13) Laura Mak (13)
14) Amanda Doherty (12)

Figure International


1) Jenny Lynn (#9)
2) Monica Brant (4)
3) Davana Medina (2)
4) Mary Kudla (10)
5) Kristy Robbins (8)
6) Elanie Goodlad (1)
7) Jamie Franklin (3)
8) Sharon Christian (6)
9) Lesli Russell (13)
10) Patty Garner (11)
11) Lena Johannesen (12)
12) Adrian Chastain (5)
13) Renee Masi (7)

Arnold Classic Men's Bodybuilding

1) Jay Cutler
2) Chris Cormier
3) Markus Ruhl
4) Dexter Jackson
5) Kevin Levrone
6) Darrem Charles
Last updated: 3/3/2003 @ 12:11 a.m. PT