After the fitness women finished, the bodybuilders took to the stage. Although many veteran competitors were missing, there were many new and old faces in competition. Immediately, in the first callout were Valentina Chepiga, who has marvelous lines, Betty Pariso who is getting bigger every show, and was definitely Texas-sized, and Gayle Moher who continues to improve. Moher also had impressive new mass, which really compliments her physique. The second callouts had Chepiga stay out and added Venezualan Yaxeni Oriquen who keeps improving, and the much shorter Peggy Schoolcraft, in her signature shredded shape.

Oriquen looked marvelous and big, and was kept up for the third callout which included American Amy Pazzo and Brazilian star Monica Martin. Martin had improved on last years physique and was a definite force in this show. Her front lat spread pose (and just standing in the 'relaxed' position) was among the best on stage, and her calves were arguably the best.

However, as usual there were those that seemed overlooked early on. As in the 1998 Jan Tana where Monica Martin was the overlooked foreign competitor at the end of the lineup, this year, it was Norweigian Merete Horness. Horness had great muscularity and was in awesome shape having vascularity in her lower legs that went below the knees even.

Another Brazilian, Angela Debatin, also looked solid but standing near the end of the field must have proved unfortunate for her as well, as she was not called out as much as she deserved. Debatin posseses a solid back and thick triceps, but is among the shorter competitors. Canadian Cathy Lefrancois looked much improved over her Ms. International condition and continues to be one of the most sparkling competitors.

During the comparison rounds, Pazzo was able to showcase her quads effectively, while Chepiga relied on her balance and symmetry, being one of the smaller (muscle thickness/maturity-wise) competitors on stage. Yaxeni Oriquen has such an aesthetic look and incredible lines along with thickness and the best biceps on the stage, that it was hard to overlook her. Monica Martin's balance was tough to beat as well. Peggy Schoolcraft's shredded condition was further accentuated in the comparisons with only Tracy Sackmann able to get close to her. Both had visible striations in their glutes and cuts that were visible from the back of the civic center.

Merete Horness again was not called out enough, and her entire lower body was tough to beat, especially as separated as her muscles were. The final two callouts included Valentina Chepiga, Gayle Moher, Betty Pariso and Amy Pazzo, so it seemed like Yaxeni may have already taken the top spot.
---
The Finals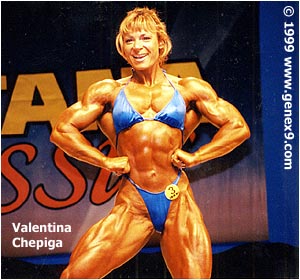 The evening show was packed and the civic center was ready to see a new Jan Tana champion in both the fitness and bodybuilding shows. The fitness competitors took the stage first to perform their routines, and it was nice that all of the competitors were allowed to do them. With the amount of work each of the athletes has to put in, it's the least they can do to let them perform them during the finals.

Unfortunately for Amy Yanagisawa, due to an injury, she was unable to perform her routine. Solid routines were put in by most of the competitors as the routines are now all so well done that it is hard for the competitors to differentiate themselves from others. Valentina Ferrari had a video game theme to hers, coming out as Lara Croft - Hollywood should have used her for the movie, b/c she was much more convincing!.

Following Ferrari was Lisa Lowe who gets the award for the best use of the Beastie Boys. For power move enthusiasts, Shena Forkner provided an impressive display by doing ten leg over shoulder presses. Laura Mak put in a solid routine as did Slovakian Marietta Zigalova. The second half of the competitors started with Konyha coming out in a hot fire-persons jacket, and she appeared even leaner than in the prejudging.

Following her was a high energy routine with good gymnastics moves from Maria Bellando. Karen Hulse's routine seemed to be more dance-y than fitness oriented, but Jenny Worth sparked the crowd with her entrance from a vine - Tarzan style. Her routine was solid and following her was the other top woman in the show, Kelly Ryan. As usual Ryan had a fantastic routine, with a lot of creativity and moves that complimented her music better than any of the other competitors.

Following Ryan was Melody Petika in a Marilyn Monroe white dress, singing the Happy Birthday Mr. President. Her routine theme was presidents as her music and voice overs went into some Bill Clinton/Lewinsky talk. Petika has great stage presence and a smile and eyes that can't be dimmed.

Finishing out the night was the always impressive and double jointed Stacy Simons again showing off her incredible flexibility and strength. Min Kim was next with a Tigress theme and a short, but solid routine, and Ursula Buckanes-Henry finished out the fitness show.

When the final results were announced, it was just the top three that were announced, with all of them qualifying for the Fitness Olympia in Las Vegas later this year. Zigalova was a surprise third, but deservedly so, as was eventual winner Kelly Ryan who also won the Spirit of Fitness award to complete her Jan Tana double.

Then the bodybuilders took the stage. Of the top competitors, Valentina Chepiga was third on stage, and had a solid and elegant routine to latin music. Her aesthetics are so good, and with some more muscle, she'll really be able to be a force. Chepiga was followed by Pariso who put in a typically reserved routine as she always does (a little too slow and boring to me).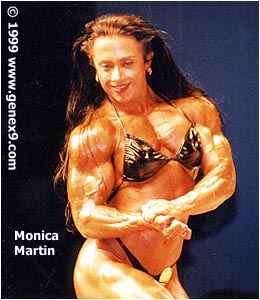 Cathy Lefrancois followed with a similar routine to the one she performed at the Ms. International but it was much better this time probably due in part to her much improved physique that was well balanced. Gayle Moher again posed to the music from the Titanic, which I could do without, but her creative poses are much more entertaining that the standard 'prejudging compulsory' fare that is usually dissed out.
Yaxeni Oriquen followed and this time her routine was much more upbeat and energetic than in the past couple of years, and it definitely paid off. Schoolcraft followed up incorporating some nice gymnastics moves, still being shredded to the bone, as was Tracy Sackmann who came on right afterwards.
Huge Italian Vivianna Violante was again a little too smooth to threaten the top ten, but wowed the crowd with her 'beating heart' flexing of an individual pec muscle to the beat of a heart in her posing music. At the end of her routine, she took a little shot at the fitness women with a voice over claiming "This is not fitness, this is bodybuilding" accompanied by some hard poses.
Monica Martin was next, and her routine was quite reserved. It was basically just a feaux workout to her music. The routine probably did not help improve Martin's placement, and is one of the few areas where she can improve. Look for Martin to break into the top five or better in her next show.
After the routines were completed, the top five were announced and asked to posed down. Betty Pariso didn't get into the action too much, but Moher, Yaxeni, Chepiga and Schoolcraft were all working the stage well. In the end however, the title was given to Moher. For anyone who had only seen the evening finals, and even for those that saw the prejudging, it was somewhat of a surprise to see that Yaxeni did not take the title, but then again, nothing is really surprising when it comes to the judging, so it was Gayle Moher who toook first. However, the top three qualified for the Ms. Olympia being held on October 9th in Santa Monica.
---
Offstage happenings
As usual, there were things happening offstage as well as on. However, with the show in Roanoke, Virginia, and not a major city, the number of notable faces in the crowd was not as high as other shows of similar caliber, and craziness wasn't as abundant either.

There were, however a lot of fresh faces like Vonda Kline and veterans such as Renee O'Neill, Andrulla Blanchette and Debbie Kruck among others.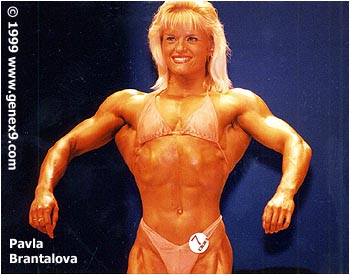 During the evening finals when Jan Tana came out to hand a check to Kelly Ryan as the fitness champion, Jan was escorted by a buff guy who looked a little pale. Someone in the crowd yelled out an inquiry as to where the guys tan was, and it gave the crowd a good laugh.
Also, as usual, there were a number of photoshoots going on the day after the show and one of the most striking competitors, Monica Martin was being photographed. Martin still looked stage-ready and when hitting certain shots looked even more full and impressive than during the show. Keep an eye open for the pictures which should be showing up in FLEX sometime in the next few months - definitely impressive!
Overall, the weekend would probably be considered tame (everything closes at 2:00 a.m. in Roanoke!), and even at the banquet, you couldn't dance (not that there was too much music that you'd even want to dance to). But that didn't prevent a lot of good networking opportunities and in some ways was better in that you could chat with more people and athletes.
---