Melissa Dettwiller
by Gene X Hwang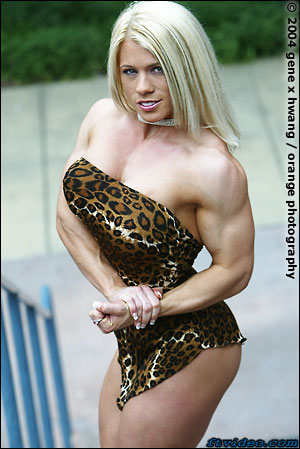 October 2004 - In the late 1990's change was afoot in the sport of women's bodybuilding and the primary term bandied about was "femininity." That led to all sorts of changes, but nothing really concrete and defined. Now in the 21st century with figure booming and fitness declining, it's hard to tell what exactly will change in women's bodybuilding, but with the Olympia titles vacant, change is upon us. One positive trend is the emergence of several women who can easily be identified as strong bodybuilders that also have that hard-to-define quality of femininity. A perfect example is New Orleans' Melissa Dettwiller who has been training for her first show and was six weeks out at the 2004 GNC Show of Strength.
"I was born and raised in Houma, Louisiana. I come from a relatively small family with only two brothers (Aaron and Steve) and a younger sister name Amanda, who passed away at the tender age of 14 months due to pneumonia," says Dettwiller.
That was certainly a tough loss to experience at such a young age, but Dettwiller did not let it hold her back with her own aspirations.
She actually competed once when she was 17, but considering it has been nearly ten years since then, her next show is really her first in a decade. The soft spoken Southern blonde has a presence in person and in front of the lens that is a quality that many of the top models and celebrities have and her charisma really shines. On top of that, her muscle bellies can hold good full mass, and she has a strong back and already has noticeable outer quad sweep.
Dettwiller will be competing at the 2004 John Sherman Classic and is excited to take the stage. No doubt the audience will be in for a treat. At 5'3" and 145 lbs. at six weeks out, she will probably compete in the middleweight class (unless the show has both MW and LHW).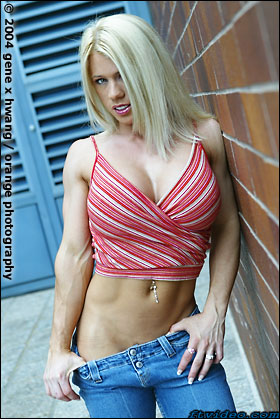 "I'd like to take this as far as possible without compromising my femininity. Heck, if I could make it to the Olympia stage one day I'd be very happy," she says. Her femininity is definitely one of her best qualities much like the women she admires most - Christine Roth, Joanna Thomas and Valentina Chepiga.
"Christine is a joy to be around... She's beautiful with the personality to match," Dettwiller adds, having recently done some work with the rising Canadian star.
With a very marketable look, Melissa may be a face you see regularly at booths at shows, and hopefully more. While her measurements now might not statistically be mind-blowing, it's more the full muscle bellies and shapes she has that show promises of a top physique. Her arms measure 13", calves 15" and chest 40".
"I train as heavy as I can, and still get 6-8 reps on my last sets per bodypart with the exception being squats. My last set is currently 3-4 reps, butt to heels with 315 lbs. The second to last set is 225 lbs. for 10-12 reps all the way down." Pretty impressive and probably one of the reasons her outer quad sweep is already the envy of many National level competitors.
Of course legs are also her favorite part to train primarily "because [she] can handle more impressive poundages," Melissa says with a smile.
"I don't do much outside of the gym. I do not smoke, drink, or do any type of recreational drugs whatsoever. I don't go out much so a fun night for me is dinner and a movie."
She's also an animal lover and has three dogs, two cats and a hermit crab named Tarzan.
"My family is a bit larger now," she adds with a smile thinking about all her pets. In addition to them, she has her husband Danny who she met when she was 16 and has been with ever since.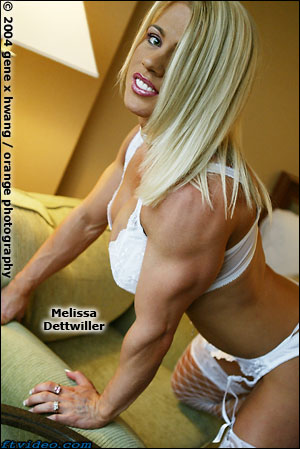 "He managed the gym that I joined (Body Elite Fitness Center) back home in Houma, Louisiana. The owner of the gym's name is Larry Blanchard, who along with my husband was a big influence on my training. I love the feeling of being in shape all the time and being appreciated for looking healthy and fit. Having muscle makes me feel strong and sexy at the same time."
Certainly it's evident that Dettwiller has one of the most amazing combinations of feminine muscle around, and should hopefully help propel the sport in a positive direction.
Melissa Dettwiller's Stats:
Age: 26
Height: 5'3'"
Off-Season Weight: 162 lbs.
Contest Weight: 135 lbs.
Current measurements at 138 lbs:
- Arms: 13"
- Calves: 15"
- Legs: 22"
- Chest/Back: 42DD
Birthday: 11/12/1977
Eye Color: Hazel
Years Training (seriously): 2 yrs.
Favorite Color: Pink
Favorite Foods: cheese, macaroni and cheese, cheese pizza, cheesecake, melted cheese, and some cheese!
Melissa is available for promotional work and can be contacted via email at: melissa@melissadettwiller.com
Her official website is at: www.melissadettwiller.com

To see more photos of Melissa Dettwiller, join the FTV MEMBERS AREA!