Kristy Hawkins

by Hans- July 2003
Photography by Gene X Hwang
---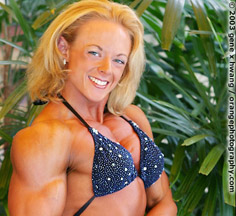 Watching 22 year-old bodybuilding prodigy Kristy Hawkins hit a most-muscular onstage at the NPC Junior Nationals in Chicago, you'd probably assume that she was a jock when she was at high school. In fact, nothing could be further from the truth. As a teenager, Kristy was an unathletic grade A student with a passion for science. "I'm secretly a huge nerd," she says with a laugh in her soft-spoken voice.
It's the morning after the pre-judging at the Junior Nationals. Kristy is sitting in the lobby of the Hyatt Regency O'Hare hotel, trying her best to relax before the finals in the evening. Tanned golden brown, she is wearing typical pre-contest attire: a t-shirt with the words "Go Hard or Go Home" emblazoned on it, baggy sweat pants and flip-flops.
Kristy was one of a new generation of twenty-something female bodybuilders to emerge from the Junior Nationals. Onstage the previous night at 5-foot-3 and 130 pounds, she looked fantastic, with incredible mass and thickness for her age and a striated chest, ripped quads and killer calves.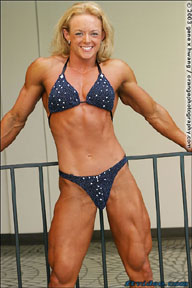 What most people in the audience in Chicago didn't know, however, is that alongside competing as a national-level bodybuilder at the tender age of 22, Kristy is a chemical engineering whizz who graduated (summa cum laude and with honors) from Texas A&M University last year and is about to go Cal Tech University to begin a PhD.
On campus at Texas A&M in College Station most of the students have never seen anything like Kristy. "I get a lot of stares," she laughs. "Most of the time I don't even notice, and my friends are like, 'Those guys over there are staring at you.'" Of course, most of them have no idea about bodybuilding. "Everyone's supportive," she says. "But you get a lot of questions. I have had some negative comments, but not enough to worry me."
Kristy Hawkins was born in Longview, Texas, where as a child she struggled with her weight and suffered from eating disorders at a young age. "I just didn't eat right and I didn't exercise," she says. When she was in middle school she went to the gym with her mother, a teacher. But unlike her mother, who did aerobics, Kristy started lifting weights. She loved it, and by the time she was old enough to drive and pay for her own gym membership, she was pumping iron every night after school and eating six meals a day.
But even though she was eating and training like a bodybuilder from the time she was in high school, Kristy loved it because of the way it made her feel, not the way it made her look. "I wasn't aspiring to be a bodybuilder when I started out by any means," she says. "I didn't really know what it was about or what I was getting myself into at all. I had no idea I would take it this far. I just loved being in the weight room and the way it made me feel. It was empowering."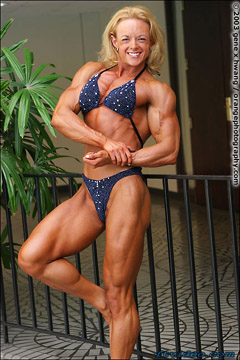 In Kristy's senior year in high school friends from the gym persuaded her to do a couple of local bodybuilding shows, and she has competed every year since then. Last year, Kristy began competing in the NPC, winning the lightweight class at the NPC Michigan at the first attempt. This year, Kristy came back bigger and harder, winning the middleweights at the NPC Ronnie Coleman in Texas, the middleweight and overall at the NPC Pittsburgh, the heavyweight and overall at the NPC Lone Star, before competing in the Junior Nationals in her best condition yet at 130 pounds. "This year has really been a good year for me," she says. "Before it was just a hobby. But this past year I was like, 'I really want to take this as far as I can.' I'm really pleased with the size I've put on this year."
Since completing her BS last December, Kristy has spent six months doing research into materials synthesis at Texas A&M before starting grad school. She was accepted at a number of top-ranked universities with full tuition and a stipend, including MIT, and finally decided on Cal Tech. "The faculty that's there is excellent, and it's more of a sense of community, whereas MIT is more of a business. And who wouldn't want to live in California?"
One thing Kristy is looking forward to about living in California is being a little more anonymous than she has been the last five years in Texas. In the weight room at College Station she trains in sweats even in summer to avoid stares and comments. But on a recent visit to the Cal Tech campus in Pasadena, she was surprised to discover that being muscular is no big deal in southern California. "I was about six weeks out and so I was pretty lean and vascular and everything, and no-one looked twice," she says.
Kristy ended up placing fourth in the middleweight class at Junior Nationals, an impressive placing for her first national-level show. After competing four times this year, she now plans to take some time off to make some improvements to her physique. "I brought my back and my delts up a lot this year," she says. "I want to get my legs bigger, and abs that's my weakest bodypart."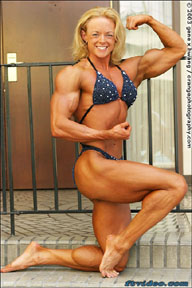 Already near the top of her weight class, Kristy says she is likely to step up to heavyweights, if not this year then the year after. Her goal is to get to Nationals, and then to see where it takes her. "I would like to compete at the Nationals - to compete for a pro card, whether or not I get it," she says.
After completing her doctorate, Kristy hopes to do research for a pharmaceutical company or perhaps even a supplement company. Kristy admits that combining competitive bodybuilding with her academic career can be tough "especially in the last six months while she's been on an almost permanent contest diet. But she says her work in chemical engineering also helps her in bodybuilding, especially when it comes to diet and supplementation. "When I read about supplements I can understand how something works," she says. "I still rely a lot on other people, but you want to be educated about it. You don't want to blindly follow advice."
In any case, Kristy says, one of the things she loves about bodybuilding is that it's not easy. "People always ask me why I do it," she says. "It's because not everyone can do it. It's the challenge. It's pushing yourself. You don't get a break. And for me it's been 26 weeks!"

Kristy Hawkins' E-mail address is kristy_hawkins@hotmail.com
(Please be aware that Kristy is very busy and may not be able to respond to your e-mai!l)
To See a complete Photos and Video Gallery of Kristy Hawkins, Join the FTV MEMBERS AREA!