Kris Murrell

by Hans

(Photography by James Cook - Click on for larger view)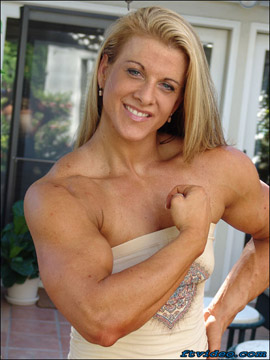 After seeing these photos of Florida bodybuilder Kris Murrell for the first time, you will be probably be wondering why you've never heard of her before. At 5-foot-6 and 175 pounds in these photos, Kris's physique is so impressive - and so complete - that you would have expected to have seen her on the national stage. In fact, the 25 year-old has only done a handful of local shows in Florida, and until moving there from her native Georgia just over a year ago, she had no idea she even had the potential to be a national-level bodybuilder.
That's all set to change this year. Kris is planning to do four shows in Florida over two months this summer ("it's a lot but I'm up for the challenge," she says), culminating in the NPC Southeastern USA in Orlando in August, where she hopes to qualify for Nationals.
At nine weeks out from the first of her four shows, she was at around 175 pounds and expected to come in between 160-165 - easily enough size to hang with the 150-pound-plus national-level heavyweight women she would be standing alongside at Nationals. With beautiful shape and a tiny waist to boot, Kris could be one of the most exciting prospects in women's bodybuilding.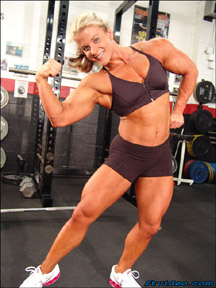 "I'm ready to take it to the next level," she says. "If I can achieve that, I feel it will open a lot of doors for my future in bodybuilding."

Kristin Murrell grew up in St. Simons Island, off the Georgia coast. As a child she danced (tap, jazz and ballet) and played soccer, and was later offered college scholarships for both. Whether as a result of dancing and soccer or just great genetics, Kris was muscular even as a child, especially in the legs. "I always had huge legs," she laughs. "I could leg press 500 at 13 years-old. They teased me about it all through high school - they called me 'Hams.'"
When Kris was in her senior year of high school she started working part-time at a Cory Everson gym in Brunswick, Ga., and that's when she started to hit the weights seriously. She had seen female bodybuilders on TV as a kid in 1980s and had always liked the way they looked. "I always thought it was neat," she says. "I never thought it was ugly or unnatural, even for a female."
As soon as Kris got herself a training partner, things started to happen. "Training with a partner allowed me to push weight that I never lifted before," she says. "My body responded immediately and grew very fast."
While still living on St. Simons Island Kris did her first show, the 2002 Capital City in Tallahassee, weighing 152 and placing second in the heavyweights. But it was only when she moved to Jacksonville last year to take up a job as personal training manager at another Cory Everson gym that she came into contact with people who could spot her awesome potential as a bodybuilder One of those people was John Mier of Premier Physiques, Inc., who is now her trainer. With added size and some much-needed contest prep help, Kris did the Capital City again last March and this time won the heavyweight and overall.
Although Jacksonville is more exposed to bodybuilding than coastal Georgia (one of the shows Kris plans to enter this summer, the All-Star Classic, is held in Jacksonville), Kris still stands out as a female bodybuilder and gets the usual stares. "It's a big city but a small town mentality," she says. She still works at the Cory Everson gym, and squeezes her own training (at a nearby World Gym) into her 8-12 hour days. Since the 2003 Capital City Kris has put on more size and now that she is leaning out for her string of shows this summer, she is thrilled at how she is looking. "I'm seeing muscles I didn't know I had and veins I didn't know I had," she laughs. The biggest challenge, she says, will be to get her legs separated enough: "My legs are water babies ­ they like to hold a lot of water."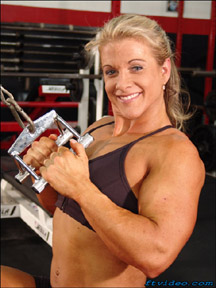 What's impressive about Kris, as well as her size, is that she has no obvious weaknesses - unusual for a bodybuilder at her level. In fact, Kris's physique is so well-balanced that when I ask her which lagging bodyparts she would like to improve, she has to think for a minute. "I'd like to bring my hamstrings out more and get my calves a little bigger," she says. "I'd also like bigger biceps, but who wouldn't?" One area where size is definitely not a problem is her beautifully flaring 26-inch legs ­ the same legs she was teased about in high school. "I know that for most bodybuilders leg thickness is hard to come by," she says. "I've been blessed."
So how far can Kris go? She gives a typically modest answer. "I try not to think about that," she says. "I don't compare myself to the national level women or the pro women by any means. I get positive feedback from people as far as my potential but I try not to let that go to my head. Someone told me once, 'Somewhere someone is training harder than you.' Keeping that in mind, you can't be too confident. My goal right now is to qualify [for Nationals]. I don't want to freak myself out and set my goals too high."

To see more photos of Krissy Murrell, join the FTV MEMBERS AREA!