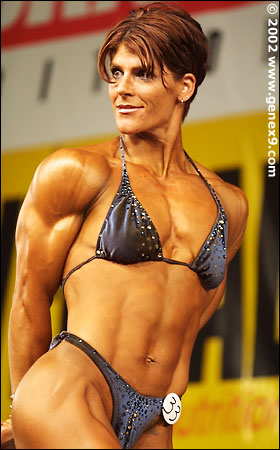 A lot of athletes come and go within the sport of bodybuilding with it being such a mentally and physically taxing sport. One such example is Kirsten Haug who recently returned to the competitive stage after having a child, and wowed the crowd at the 2002 Emerald Cup with an impressive 3rd place finish.

Like many bodybuilders, Haug got her foundation of musculature from when she was doing gymnastics. "I grew up in Eastern Washington where I lived with my father and younger brother. I have an older sister as well, but she soon lived with my mother in Seattle when we were high school age. I started recreational gymnastics at age eight, and continued until our small town developed a Junior Olympic program where I soon started coaching the beginner levels as well as doing competitions up to level eight (there are 10 levels before the Olympic level). I was tall for a gymnast, so therefore had to have a lot more strength to keep up with the difficulty of moves in the upper levels," Haug adds.

That strength training helped establish the basis for her heavyweight physique. Haug was also a tremendous student, graduating from high school as an honor student with a 3.9 GPA. While she was always a "good kid," her German father had very strict rules about academic performance before sports, which helped push her on both fronts. She moved to Seattle to attend college where she went one year at Seattle University and then transferred and graduated from the University of Washington.

Because of her gymnastics background, Haug did a fitness contest in the early spring of 1995 as apart of her senior project. The project had to incorporate most of her gymnastics skills, and her strength and flexibility helped her take a 3rd place finish.

"I decided to do another fitness contest so during the fall of my freshman year, I did the 1995 Washington Ironman and placed last, though there were only six women. I was thrown off by what the expectations were, and ended up talking with some guy who worked back stage. He asked me to stay backstage and watch the bodybuilder's since I hadn't really paid any attention to that part of the show.

"Four months later, after I started training with heavier weights in the gym with the guy I met at the show, I did my first bodybuilding show. It was the 1996 Vancouver Natural Classic and there were 11 novice heavyweight women. I took 2nd place and continued from there. I did two or three other shows, moving into the open ranks and getting 2nd in the heavyweight class at the 1997 Washington Ironman," Haug adds.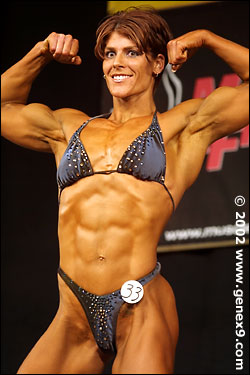 However, her competition streak was soon to be interrupted. Haug had a baby on the way, and focused on working full-time until her son was due. That meant there was no working out in the gym at all. She had her son in November of 1998 and started back at college to finish her bachelor's degree, then started working full-time after graduation in the summer of 2000.
Of course Haug had still been making it to the gym from time to time while wrapping up her degree, but late in the summer of 2001, she began working out consistently.
"The desire to be competitive was getting to me, so I decided months out from the Emerald Cup that I was going to come back. And the rest, you pretty much know," Haug adds with a smile.
"Two weeks before the Emerald Cup, I did the Vancouver Natural show and took 2nd to Patty Philpot. I was somewhat discouraged about my placing because I felt like I was in better condition, but I knew that the two weeks would be enough to fine tune what edge she had on me. So taking 3rd (and being only three points from 2nd!) at the Emerald Cup was more satisfying than I hoped!"
There should be plenty of satisfying placements for Haug if she continues on her comeback streak. With aesthetic lines, and a good frame that can handle even more muscle, she should do well even on the National level competitions.