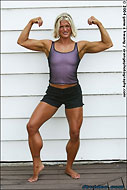 Name: Jennifer Delano, bodybuilding
Age: 30
Location: Fort Worth, TX
Height: 5'3.5"
Weight: 132 lbs.
Info: When you first see this spunky Texan, you can't help but notice those calves. Stretching the tape at 17" on her frame, they look massive and impressive.

Having only trained for a short amount of time, and making her competitive debut at the 2004 North Texas Championships (as part of the 2004 Southwest Pro Cup weekend), Delano had many of the pros envious with her genetic gifts. Watch out for more as she gets another year of training under her belt!