Jamie Troxel

by Gene X Hwang - February 2004

---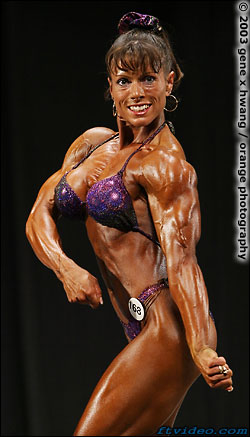 Strength runs in the family, and for Jamie Troxel, it was her Mom and Dad who got her into lifting weights. Those same family genetics have also helped carry her to the top ranks of the National level in the lightweight bodybuilding class.
"I've always been the athletic type and very goal-oriented. I would have to thank my Mom for getting me involved in sports at a early age - 'Thanks MOM!' Powerlifting was introduced to me at a early age as well when I saw my father compete. He still continues to break bench press records. You go DAD!"
So it's no surprise that Troxel took up powerlifting before switching over to bodybuilding, and anyone looking at her physique can see the dense muscularity built from heavy lifting.
A lot of that lifting was because of sports, and Troxel started in ninth grade when she joined the high school track and field discus and shot-put team.
"I liked the strength training regimen so much that when we moved to Florida I joined the local gym. I continued to work out regularly and play high school sports like JV football, soccer, and golf.
"Initially, the pictures in the gym of Tonya Knight, Cory Everson, Raye Hollit, and Diana Dennis to name a few, were my motivation to stay dedicated to weightlifting. I admired their physiques and muscle development and knew I wanted to sculpt my body like them," she says.
That era was when the muscular female physique was really taking off and it pushed Troxel into training and competing in her first bodybuilding show.
"I competed in two shows before I turned 18. It was a lot of fun and my bodybuilding lifestyle began. After high school I enlisted in the United States Marine Corps with the goal of working on aircraft and representing them in powerlifting and bodybuilding. In the last thirteen years I've accomplished a lot. I'm now an aviation electrician, I competed at the 1992 NASA Powerlifting Nationals (breaking an American teen bench press record), I've competed in numerous bench press competitions setting women's records in Okinawa, Japan in three different weight classes, (personal best 250 lbs at 135lbs) as well as several bodybuilding shows.
"I decided to take a break from competing after placing third in the Las Vegas Classic in 1994. I returned to the stage in 2000 and won the Far East Bodybuilding overall title. Upon returning from Okinawa in 2000, I started training for National-level competitions. Once I received my National qualifications by winning the middleweight and overall title at the 2001 NPC Classic held in Sterling, VA, it was on to National level competitions."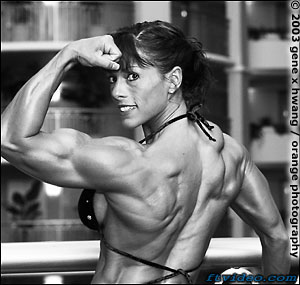 Quite a list of impressive accomplishments for someone so young, but that's to be expected of someone who has been able to juggle so much.
"Today, I'm a mother of two, Lauren and Jaren (ages 6 and 5), a United States Marine (13 years), and wife to a very supportive husband, Frank. He is also a National-level competitive bodybuilder, United States Marine, my training partner, a great daddy, and a terrific cook! We feel we are positive role models for our children by living a healthy lifestyle," she adds.
When she's not managing all of that, Troxel likes competitive roller skating, spending time with her kids and going on long Harley rides with her husband.
It hasn't all been fun and games though. After the 2001 NPC Jr. Nationals, Troxel (then Stopp) took four months off and had foot surgery on both feet.
"They installed two screws and a pin in each foot. Fortunately there were no complications and I resumed walking in regular shoes by mid January 2002. I set the goal of competing at the 2002 NPC USA with hopes of a top five finish. I was pleased with attaining that goal by taking 5th!"
While continuing to showcase some of the most dense and mature muscle in the lightweight class at the National level, Troxel is sure to be knocking on the class title when she next hits the stage. A true bodybuilder and physique athlete, she is 100% committed to it.
"Bodybuilding is a sport that you wear 24-7. I enjoy the compliments I get on my strength and physique. l also like helping others when they ask about nutrition, weight training, in hopes to help them achieve their goals."

Contest History
2001 - 2nd NPC Jr. Nationals - Lightweight class
2002 - 5th NPC USAs - Lightweight class
2003 - 3rd NPC USAs - Lightweight class
>To see more photos of Jamie Troxel, join the FTV MEMBERS AREA