Christine Sabo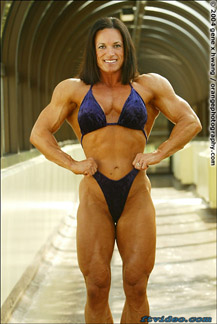 What a year it's been for Christine Sabo. In June, the 36 year-old from Arizona did the Junior Nationals in Chicago, a show in which she had placed outside the top six the two previous years. This time ­ to everyone's amazement ­ Christine showed up looking like a totally different bodybuilder and walked away with the light-heavyweight and overall. Still high on her win, she took a shot at the USA in Las Vegas four weeks later, and placed second in the light-heavyweights behind overall winner Carri Ledford-Baldwin. In just under a month, Christine had gone from being a competitor who couldn't quite make it at national-level to a being a top contender for a pro card. Unsurprisingly, a few weeks after the USA, she's still taking it all in.
"I am so happy to be where I am at this time but, I must admit, a tiny taste of a pro card is quite the motivator," Christine says with a laugh. "I hope to be better next year, but in the meantime I am ready to relax and reflect on a wonderful year."
The amazing story of how Christine transformed her physique to win Junior Nationals this year starts backstage at last year's show. Disappointed at placing 10th in the middleweights, Christine asked Dena Westerfield, the middleweight and overall winner, if she could compare herself to her. Dena agreed to the unusual request and they stood side by side in front of a mirror and went through mandatories. Standing next to Dena, Christine immediately saw it - Dena had a dense, compact look that made Christine look stringy, particularly in her upper body.
Christine decided to take one more shot at Junior Nationals, and went back home to Apache Junction, Ariz., a remote suburb 40 miles east of Phoenix, and worked her ass off. Training with her husband Kevin, she did a lot of heavy, basic, hardcore movements like deadlifts to, as she puts it, "beef up" her upper body. "I pounded it, I cremated it," she says, searching for the words to convey the intensity of those training sessions. She also did 30-45 minutes of cardio 4-5 days a week throughout the off-season, something she had never done before, resulting in an off-season look that was "bulky, but tight bulky not chunky bulky." As she started her pre-contest diet, she felt she was finally starting to get the look she had seen in Dena.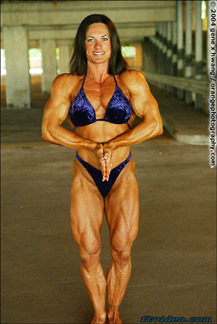 Of course, most people in the bodybuilding world had no idea about how hard Christine had been working in Arizona. A few weeks before the 2004 Junior Nationals, she told me she thought she was going to give people a surprise, but I didn't know just how much of a surprise. The new light-heavyweight class turned out to be a perfect fit for Christine, who at 5-foot-3 was not quite big enough for the heavyweights but struggled to make the middleweights. "It was like they designed the weight class just for me," she says. Weighing in at 139 pounds (the cut off for the light-heavies is 140), she looked incredible ­ dense, rock hard and beautifully proportioned. Her hair and suit were perfect as well, and no-one in the audience was surprised when she took the light-heavyweight and the overall.
Christine's win was even sweeter because Christine grew up in the suburbs of Chicago and had her parents and family at the show to see her win and celebrate with her. It was also exactly 10 years since she had started her competitive career at the 1994 Illinois State. She even made sure to wear a suit the same color (red) as her first show and to wear her jet black hair in the exact same style. "It was like a decade of work, all encompassed in one show," she says.

Christine Sabo was 17 years-old when she fell in love with bodybuilding. It was the summer of 1985 and she was on vacation in Sacramento, Calif., when she saw a female bodybuilder at the beach (she later found out her name was Carol Closter and was a few weeks out from the Cal State). She was "mesmerized" by her, and Christine being Christine, she went straight up to her and told her, "You are so cool! I want to look like you!"
Christine started lifting weights right away. Having been a dancer as a child, she had well-developed legs but no upper body. She had also been a vegetarian, and once she started eating chicken and fish she quickly started to see her body change. However, although she started to follow women's bodybuilding through the magazines, she trained in a powerlifting gym in Chicago, and in 1991 started to do powerlifting shows.
A few years later, having graduated from Saint Xavier University in Chicago with a nursing degree, Christine started training with Kevin, who was more into bodybuilding, and she switched her focus too. She preferred the look she started to get ("I wasn't so husky!" she laughs) and she also loved the fact that she could use her dance background in choreographing a posing routine. In 1994 she did her first show, the Illinois State, and won the middleweight and overall. For her contest prep, she worked with Chuck Sanow, a top national competitor from Illinois who still helps her today and who she credits with being a major factor in her success.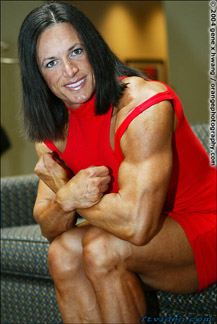 In 1996 Christine and Kevin, now married, moved to Arizona, and for the next few years she stopped competing while they got settled. Five years after her first show, and now working as an operating room nurse, she got back onstage and began to work her way up the competitive ladder in Arizona and California. After taking first place in the middleweights at the Iron Maiden in Culver City in 2000, Christine felt she was ready for the national level. "I felt like if I could do this in California, where it all started, I was ready to take the next step," she says. She did the Junior Nationals for the first time in 2002, and placed 14th as a heavyweight.

After Junior Nationals in 2003, Christine's confidence was at a low and she started to wonder whether she had what it took to make it as a national-level bodybuilder. She decided that if she placed outside the top five at Junior Nationals in 2004 ­ her third time doing the show - she might need to re-evaluate whether she should continue competing as a bodybuilder. "I felt I had given it everything I had," she says. "There was a part of me that was getting tired at knocking at the door. I was getting exasperated at the process."
It was the introduction of the light-heavyweight class that gave Christine the big mental boost she needed. "I knew if I could be a rock-hard 140 pounds that would be perfect for me," she says. "It was like, 'This is it.' It gave me momentum and motivation." As Christine began her contest prep and started to get leaner, she began to feel more confident that her intense, specific off-season training had worked. At 6-8 weeks out she felt she could make the top 5. At 3 weeks out, she felt she could make the top 3. When she showed up in Chicago and took a look at the other women at the weigh-in, she thought, "I might win this class!"
But although Christine was confident, it was still a lot to take in when she was announced in first place ahead of Amanda Dunbar. "I was so emotionally overwhelmed, I was in shock," she says. (Talking about Amanda, whose picture Christine had on her refrigerator for motivation, she says, "I didn¹t beat her, it was just my day.")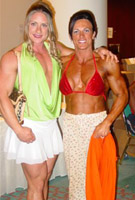 Dena Westerfield and Christine following the 2004 Jr Nationals win
Meanwhile, sitting in the audience, Dena Westerfield was almost as emotional as Christine. "Tears came to my eyes when Christine won the show," Dena says. "Just thinking back on a year before, only she and I knew about that night in the mirror, but it obviously hit home for both of us. It kinda felt like I won all over again." Dena rushed backstage after the show to talk to Christine. "She said, 'I can¹t believe you just won the show!'" Christine says. "I said, 'Thanks to you, I did!'"
36 years-old and with 19 years of training behind her when she won Juniors, Christine already had the muscle maturity to compete at national-level. Determined to prove that winning Juniors wasn't a fluke, she ate for four days ­ which she says helped her after 16 weeks of dieting - and then went back on full throttle for the final three weeks. "I busted my tail!" she says. She came in a couple of pounds lighter than at Juniors and estimates her conditioning was 15-20% better. She even had a new posing routine for the judges.
Thrilled as she is about her phenomenal success this year, Christine also now feels the pressure is on. So, exactly 18 days after competing in the USA, she was back in the gym, focused on making her physique (and her back in particular) look even better when we next see her onstage at the USA in 2005. To that end, she is about to start a new job as a school nurse, which will take some of the stress out of her life and give her more time to focus on training and competing. As for quitting the sport, she says, "That idea no longer exists!"
Winning the Junior Nationals in her hometown, exactly ten years after starting competing, and just as she was thinking about giving up on her dreams ­ it seems like a perfect script from a movie. But it wasn't a screenwriter that made it all happen but Christine herself. After feeling she had already put everything she had into bodybuilding, she just went back home and worked even harder. As she says, "It wasn't fate or luck, it was drive." Whenever anyone asks Christine what she did this year to make such a difference to her physique, her answer is simple: "I just suffered more!"

http://www.christinesabo.com
You can email Christine at: canyonmusclzz@yahoo.com

To see more photos of Christine Sabo, join the FTV MEMBERS AREA