2012 NPC Nationals
November 9-10, 2012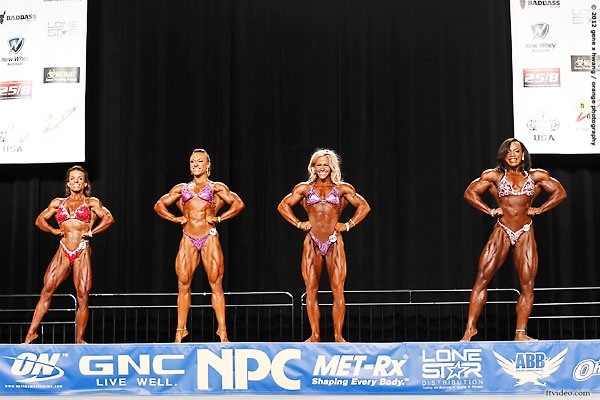 Atlanta, GA, USA -
Original chatter about the show said that there'd be over 1000 competitors but in the end just under 900 athletes took to the stage for a plethora of pro cards. We focused our attention to the Women's Physique and Women's Bodybuilding competitions and saw two fantastic overall winners in Juanita Blaino in bodybuilding and Toni West in physique.
West looked outstanding in physique and has amazing shape and proportions. She could do well in bodybuilding as well, but in physique she looks fantastic. The other pro cards in physique went to Danielle Reardon, Lindy Waid, Katie Bartlett, Audrey Presson, Jamie Pinder, Asha Hadley and Alisa Alday.
Reardon won the A Class and has a tremendous physique for such a young competitor. Her presentation is also a strength and she should do well in the pro ranks too. Some of the overlooked competitors or ones with good potential that we liked included Katie Bartlett who's upper body was tight and had a good overall look but just needed to be a shade tighter. Katie Chin also has a nice structure but just needed to be tighter too and Melissa Hong looked ripped. Probably a bit too much for the judges but we liked what she brought to the stage.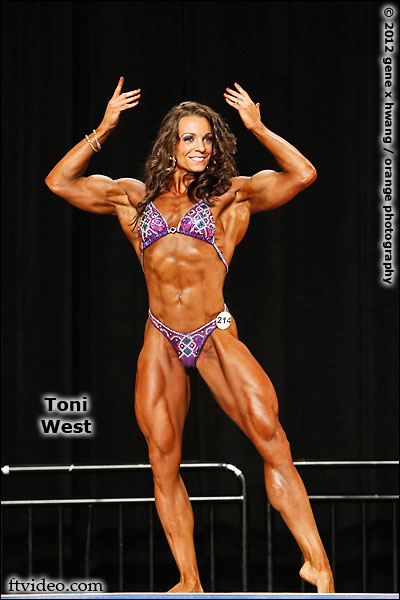 Jayme Appleman was probably our favorite that placed outside the top ten. She placed 11th in the C class, but has a striking look with good lines and should have been placed much higher. Look for her to make the first callout soon.
In womens bodybuilding we thought all the class winners were deserving and the judges did a great job with the category. In addition to Blaino, pro cards went to each class winner which included lightweight Crystal Reike, middleweight champ Rene Marven, and light heavyweight winner Kira Neuman.
In the lightweights it was Linda Smith who came in second to Reike and Stefanie Kitner in third who looked amazing and is sure to turn pro soon.
Marven made a huge splash and dominated the MW class. With a huge back, thick legs and spot on conditioning, she beat out the impressive Cassie Bates. Bates, from Frisco, TX was ripped and is another future pro. Fellow Texan Holly Chambliss took third followed by the impressive Jolynn Shane who was one of the many protoges of trainer PJ Braun.
In the LHW, former Collegiate National Champion Kira Neuman, who wanted to come in as a MW, swept the judges scorecard scoring a perfect 5 pts to claim the class. She beat out veteran Karen Choate who looked big and full. The best glutes in the show belonged to Kristine Mele who took third and has a promising future as well. Myra Adams has a thick, muscular physique that took her into fourth place just ahead of Jessica Simonet.
In the heavyweights, behind Blaino was a duo of fantastic new faces. Second was Nikki Stadleman from North Carolina and in third was Susan Smith. Both had great shape and Smith may have one of the best structures we've seen in a bit. She could fill out her frame more, quite easily with her height, and should have a bright future. Fourth went to Dana Richards and the fifth and sixth spots went to veteran national level competitors Sue Scheppele and Tina Zampa respectively. Zampa wins the award for the most mass and looked amazing, especially from the back. She was definitely the most muscular bodybuilder in the show.
In the figure classes, a few of the folks we liked that were overlooked included the ripped Laura Foster and Brooke Merritt who was also quite lean. In Class C Hyla Conrad had great presentation on stage with a lot of sass while in D we thought Sarah Pitsch should have placed higher. Rachael Loftus has a structure we really liked, and when Vanessa Naesheim came out on stage, we thought she immediately had the class title (she ended up in third).
The final 'overlooked' athlete we wanted to give props too was Kimberly Duncan of Tampa.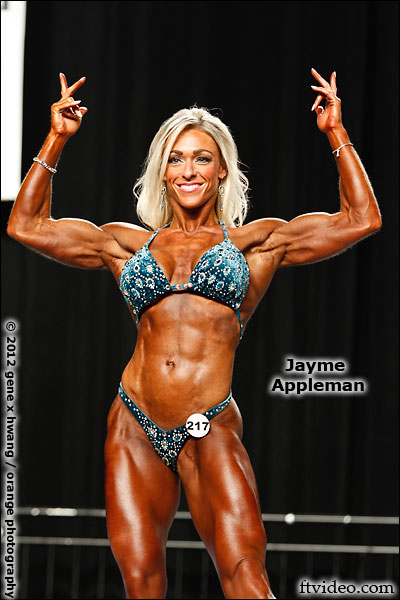 Results

Womens Bodybuilding


Overall: Juanita Blaino*

Lightweights
1) Crystal Rieke*
2) Linda Smith
3) Stefanie Kitner
4) Patricia Watson
5) Tiffany Delano
6) Maria Davis
7) Angelita McGhee
8) Vanessa Valdez
9) Dana Lowe
10) Donna Sweat

Middleweights
1) Rene Marven*
2) Cassie Bates
3) Holly Chambliss
4) Jolyn Shane
5) Tomefafa Ameko
5) Leah Wilson
7) Melanie Landry
8) Cheryl Faust
9) Mary Stanton

Light Heavyweights
1) Kira Neuman*
2) Karen Choat
3) Kristine Mele
4) Myra Adams
5) Jessica Simonet
6) Joella Bernard
7) Miava Nelson
8) Ivette Sheek
9) Margaret Martin
10) Amanda Wright

Heavyweights
1) Juanita Blaino*
2) Nikki Stadleman
3) Susan Smith
4) Dana Richards
5) Sue Scheppele
6) Tina Zampa
7) Audry Peden
8) Yamile Marrero
9) Tischa Thomas
10) Anne Dudash
11) Julie Peavey
12) Natalie Bizzarri Ciccone



---

Physique


Overall: Toni West*

Class A


1) Danielle Reardon*
2) Lindy Waid*
3) Rosela Joseph
4) Giselle Fernandez
5) Jennifer Jacque
6) Jill Vadala
7) Tonya Shull
8) Camala LaRoco
9) Jami Frenkel
10) Adina Edwards
11) Laveca Smith
12) Jill Leake



Class B


1) Katie Bartlett*
2) Audrey Presson*
3) Rachel McMillian
4) Missy Bennett
5) Ally Baker
6) Holland Canter
7) Nancy Espinal
8) Jamie Young
9) Natalie Bastiao
10) Shauna Lewis
11) Rocio Guillen
12) Nickie Clark
13) Fern Assard
14) Mia Howard
15) Rebecca Cooper
Viviana Soldano
Janet Gerber
Mariah Lane
Katie Chin



Class C


1) Toni West*
2) Jamie Pinder*
3) Tracy Weller
4) Alisa Allen
5) Alicia King
6) Janelle Miller
7) Jessica Bowman
8) Jessica Gaines
9) Jayla McDermott
10) Ginger Martin
11) Jayme Appleman
12) Melissa Hong
13) Kim Goeden
14) Kendal Dolen
15) Eda Greene
Dawn Borjas
Dorothy Trojanowicz
Zahira Landestoy
Stephanie Hannon
Kayla Sellers
Jenetta Thompson



Class D


1) Asha Hadley*
2) Alisa Alday*
3) Tammy Bleile
4) Lynnie Brooks
5) Jennifer Brent
5) Joanna Wilson
6) Roxie Beckles
7) Violet Wilson
8) Lindsey Rojas
9) Catherine Zidell
10) Brienne Eubanks
11) Heather Peterson


* Eligible for IFBB Pro Status








Figure

Overall: Nicole Sims*

Additional Pro Card Winners
Danielle Sereluca*
Angela Coleman*
Christy Allen*
Jennifer Baker*
Tamara Sedlack*
Michelle Shepherd*
Cydney Gillon*
Elizabeth Jenkins*
Corinna Booth*
Belinda Hope*
Tonya Weinle*

Class A
1) Danielle Sereluca*
2) Angela Coleman*
3) Samantha Maycock
4) Maria Aracena
5) Kelly McGehee
6) Erica Blockman
7) Colleen McMahon
8) Yubia Depina
9) Vickie Biberian
10) Melissa Girard
11) Brenda Gabbard
12) Huong Vo
13) Michelle Moore
14) Esthela Heiler
15) May Strickland
Michelle Beatty
Darcy Dassow
Lynda Figueredo
Rina Patel
Natalia Young
Kandace Shelby
Julie Paquin
Keysa Ortiz Garica
Stacy Reese

Class B
1) Jennifer Baker*
2) Christy Allen*
3) Jennifer Moriarty
4) Traci McDonald
5) Amy Phillips
6) Megan Wyble
7) Kelly Hater
8) Hallie Cook
9) Danielle Price
10) Lacy Smith
11) Vicki Dowell
12) Valeria Palamidy
13) Trisha Fleischer
14) Lia Taylor
15) Megan Morris
Laura Foster
Tiffany Faxon
Christina Chance
Susan McDonald
Aymara Baquevo
Hilda Pastoriza
Stacey Morton
Brooke Merritt
Kelly Diffenderfer
Sheri Cochran
Autmn Cleveland
Victoria Flores
Maggie Corso
Mindi Giroir
Veronica Belletto

Class C
1) Nicole Sims*
2) Tamara Sedlack*
3) TJ Wiltz
4) Kimberly Zachry
5) Christine Gardner
6) Michelle Krause
7) Megan Donnelson
8) Stacy Charles
9) Kellie Sullivan
10) Sarah Hoy
11) Chioma Uwasomba
12) Kim Haines
13) Gina Policastro
14) Celeste Hunt
15) Tatum Bounds
Tiffany Garrett
Christy Seguin
Hyla Conrad
Samantha Belcher
Kristi Popp
Barbara Anderson
Erica Clark
Amy Ramage
Erika Otero
Courtney Christiana
April DeLaPaz
Michelle Smith
Jeanette Samuelson
Elizabeth James
Yvette Ortega-Garrison
Jodi Young
Kimberly Elizabeth
Charlene Floyd
Lauren Leckwold
Shelly Cannon
Anya Spector

Class D
1) Cydney Gillon*
2) Michelle Shepherd*
3) Vanessa Rahn
3) Vanessa Naesheim
4) Lauren Valentino
5) Amanda Quinlan
6) Jael Lamothe
7) Kristy McKinney
8) Zahira Landestoy
9) Kelli Ruth
10) Jennifer Brown
11) Ashley Lemmons
13) Marcie Trujillo
14) Cristin Autry
15) Dixie Reynolds
Christina Larson
Jennifer Dees
Brandy Smith
Rachael Loftis
Vicki Mullens
Siene Allen
Brandee Shropshire
Carson Costello
Michelle Brown
Lita Lewis
Brenda Lauver
Jami Shields
Lisa Tanker
Donna Alexander
Grace Ripslinger
Rhionnon Mackenzie
Laura Bailey
Chantelle Huber
Erin Davis
Carla Araujo
Lori Canova
Christine Conoscenti
Sarah Pitsch
Karla Rodriguez
Lindsay Farling
Kisha Lane
Denise Cadenas
Querida Jones
Renee Mengel

Class E
1) Corinna Booth*
2) Elizabeth Jenkins*
3) Jennifer Iritano
4) Tara Zito
5) Kimberly Linton
6) Annette Mendez
7) Jennifer Delgado
8) Katie Grevey
9) Mystra Tillotson
10) Chelsey Young
11) Krystal Bogan
12) Yolanda Anthony
13) Kasey Tabar
14) Melina Lee
15) Kim Steckman
Claudia Meijberg
Kaylan Ostrander
Maleka Sweat
Amy Caperton
Caroline Lovino
Brigette King
Melanie Cole
Katie Kreidler

Class F
1) Belinda Hope*
2) Tanya Weinle*
3) Ecko Johnson
4) Veronica Jackson
5) Sailyn DeBernardis
6) Terina Perry
7) Amanda Betron
8) Stephanie Naeau
9) Sarah Wernert
10) Roshonda Schmitt
11) Bryana Turner
12) Casidy Welch
13) Kimberly Duncan
14) Leslie Ward
15) Sabina Moise
Rebekah Willich
Monica Richard
Heather Horton
Denise Holloway
Brittany Murchie
Debbie Westby
Camille Clarke
Kimberly Dickson
Jessica Curry
Heather Moore
Katie Leboeuf
Kelsey Boe
Shayann Schuessler
Victoria Hamm
Monica Perez
Samantha Baker
Cheryl Lenzer
Amber Price
Tia Trent
Hannah Ringholm
Maria Carson
Last updated: November 12, 2012 @ 9:10 p.m PT