2006 Emerald Cup Contest Report
April 21-22, 2006 - by gene x hwang
Bellevue, WA, USA - The first big amateur competition of the year brought out athletes from all over Canada and the United States as Brad and Elaine Craig's Emerald Cup Championships drew the attention of physique fans to the Pacific Northwest.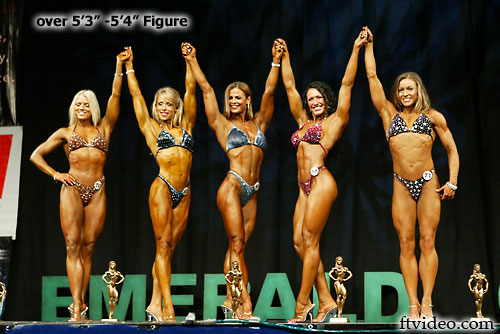 Once again, there were over 300 athletes competing but this year it was all amateurs with the pro fitness competition not returning. However, that helped make the pacing work even better as Friday was all fitness and figure, and Saturday was all bodybuilding.
Friday afternoon started with fitness, whos competitive field keeps shrinking. This year there was one athlete in the short class - Diana Anderson, and three in the tall class. The routines in general were good and Karen Patten returned to win the overall fitness title again this year beating out Viko Newman and Elsa Skinner.
Figure on the other hand has grown into seven height classes and with the impressive pedigree of every overall Emerald Cup figure champion turning pro, there was a lot of pressure on the athletes to maintain that high standard.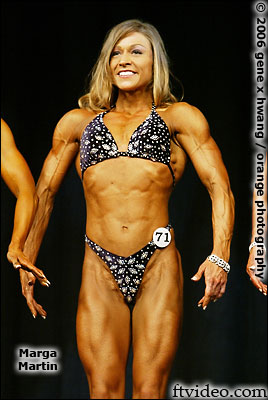 In the inder 5'2" class, Sonja Adcock beat out a tough class that included Jennifer DeJoya and Kristi Tauti. Jill Knight was looking sharp and lean, while Lupe Aguilar has incredible structure and great shape from her previous training as a bodybuilder. In the 5'2"-5'3" class, it was Allison Jones making the cross country jaunt to edge out Tara Chandler. Chandler has a tiny waist and looked a bit like Zhanna Rotar. Halycon Duarte wasn't quite as tight as at her Ironman win, but looked solid while Elissa Schlichter-Gianone and Teri Stevens were both excellently conditioned.
In the 5'3"-5'4" class, Denise Jensen beat out a very strong field. Her calves and legs were among the best, and Nina Schumaker took second to her. Shumaker just beat out Lynda Thoresen who was someone who will do very well in figure and could potentially cross over to bodybuilding with her impressive genetics. In fourth behind Thoresen was Marga Martin who just keeps improving and was fantastically conditioned and sharp throughout. Rounding out the top five was Fawnia Mondey-Dietrich who has recently moved to Las Vegas and has added some nice size to her frame.
5'4"-5'5" was a close one with Stacy Adams edging Marie Gibbon by five points. Tracy Guarino was also a standout in the class with her impressive leg development and she placed fifth. In 5'5"-5'6", Rebecca Slatt was the champ beating out the steadily improving Tracee Simpson. Kristen Hough has added some nice thickness and size and moved into third just ahead of the shapely Ronda Wilkinson.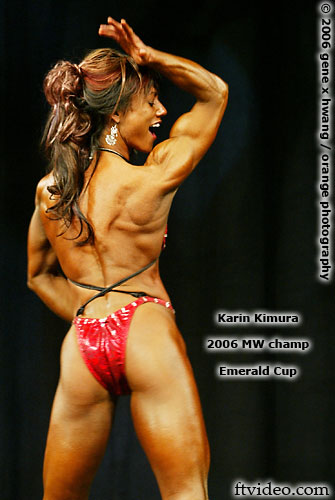 The 5'6"-5'8" class was the largest and one of the toughest as well. Klubo Flingai took the class ahead of Amanda Chapman and Shari Yates, while Julie Alves took fourth on the strength of her nice delts. Veteran Bridgette Rhea followed in fifth and Shaushi Zike placed a strong sixth. Other notables in the class were Catherine Boshuizen who's color was off, but she has nice shape and with a little more muscle will place higher.
Heathre Foster was tight but got squeezed between Yates and Chapman in the lineup. Aimee Cook looked thick and muscular while Melissa Yerdon has nice structure to build upon and can easily improve her placings in future competitions.
The final class was the over 5'8" and it was almost a clean sweep for Brandy Cooke. Cooke might have looked familiar as she's the sister of Amanda Savell and if she continues on this pace, they may become the first sisters who are IFBB Pro Figure athletes.
Cooke beat out Angela Stuber and M.J. Coluccy in the top three. Jessica Kaiser placed seventh but looks to have a promising future.
So now the pressure is on Adcock as the overall winner to turn pro. With the number of opportunities for figure athletes to turn pro though, she should ample opportunity to fulfill that legacy.
---
Saturday was all about the muscle as the bodybuilding competitors took the stage. While past Emerald Cup champions have gone on to the pros and had successful careers, many have not yet attained pro status. This years champion, Candy Canary may be one to step into the IFBB Pro ranks though and she made quite the stir right from the moment she strode onstage in the heavyweight class.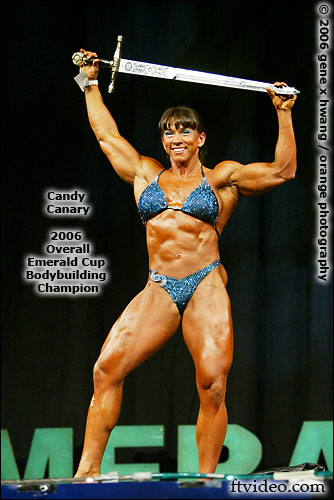 While there were only four heavyweights and Canary was easily the winner, there was no doubt that hers was a physique ready for the National stage.
In her class, she beat out Audra Kimsey, Mary Hallman and Lorilee Sweeney. Kimsey took second based on her muscularity over Hallman who has nice lines but can easily carry more weight. It was Hallman's second contest though so look for more of the Tacoma native.
The middleweights was a photo finish as Karin Kimura beat Kimberly Agnew by a single point. Shari Cole took third and Janice Gaines-Ehlen and Shawna Davenport rounded out the class.
The lightweights were the largest class with nine competitors and in another tight one, Jennifer Valadez beat out Gina Parise by a point to take the class. Both were densely muscled but Valadez's back poses were the best in class. Roseanne Blackburn-Desmarais took third and had an entertaining martial arts inspired routine. She was also fierce on the posedowns nudging Valadez to get in front of her on stage.
Cindy Goodrich took fourth and was a crossover from figure like Blackburn-Desmarais and Adriana Medina used to compete in figure but only competed in bodybuilding this year - a trend perhaps? We hope so as there are many figure athletes with great genetics who could easily cross over and be successful as bodybuilders.
---
Discuss the show and see expanded photos and coverage on our message boards!

Results

Women's Bodybuilding

Overall: Candy Canary

Lightweights:
1) Jennifer Valadez
2) Gina Parise
3) Roseanne Blackburn-Desmarais
4) Cindy Goodrich
5) Julie Fielding
6) Teddy Breeze
7) Mary Burke
8) Lisa Schlachter
9) Adriana Medina

Middleweights:
1) Karin Kimura
2) Kimberly Agnew
3) Shari Cole
4) Janice Gaines-Ehlen
5) Shawna Davenport

Heavyweights:
1) Candy Canary
2) Audra Kimsey
3) Mary Hallman
4) Lorilee Sweeney


Masters

Overall: Kay Friend

Over 35:
1) Kim Olsen
2) Liann White
3) Teresa Mason

Over 50:
1) Kay Friend
2) Janet Guenther
3) E.Q. Pruitt
4) Stephanie Meece
5) Ann Gannon
6) Ita Pantilat






Fitness

Overall: Karen Patten

Short Class:
1) Diana Anderson

Tall Class:
1) Karen Patten
2) Viko Newman
3) Elsa Skinner

---

Figure

Overall: Sonja Adcock

Under 5'2"
1) Sonja Adcock
2) Kristi Tauti
3) Jennifer De Joya
4) Jill Knight
5) Lupe Aguilar
6) Kari Keenan
7) Danielle Davis
8) Jen Turnbull
9) Suzanne Germano
10) Cindy Goodrich
11) Sherry Smith
12) Marissa Taylor
13) Randi Brickner

over 5'2"-5'3"
1) Allison Jones
2) Tara Chandler
3) Halcyon Duarte
4) Elissa Schlichter-Gianoni
5) Teri Stevens
6) Melanie Nakajie
7) Vanessa Van Overmeer
8) Sasa Estrada
9) Elisabeth Yu
10) Roxana Krekio
11) Gina Burton

over 5'3"-5'4"
1) Denise Jensen
2) Nina Schumacher
3) Linda Thoresen
4) Marga Martin
5) Fawnia Mondey
6) Sherrie Miller
7) Karen Patten
8) Viko Newman
9) Sandra Ejnes-Barckholtz
10) Sheron Falcon
11) Allison Malone
12) Mary Lyons
13) Amber Davenport
14) Cassie Stinson
15) Roseanne Blackburn-Desmarais
16) Leah Baron
17) Renee Ussery

over 5'4"-5'5"
1) Stacy Adams
2) Marie Gibbon
3) Jamie Fisher
4) Meredith Berthelson
5) Tracy Guarino
6) Inez Bess
7) Michele Cogger
8) Evelynn Johnston
9) Jennifer Nicholas
10) Laura Ely
11) Quinn Andrews
12) Brenda Kaspar
13) Jessica Madison

over 5'5"-5'6"
1) Rebecca Slatt
2) Tracee Simpson
3) Kristen Hough
4) Ronda Wilkinson
5) Cara Welborn
6) Corinna Frikken
7) Kristine Large
8) Kelly Williams
9) Mary Bourke
10) Louise Akesson

over 5'6"-5'8"
1) Klubo Flinga
2) Amanda Chapman
3) Shari Yates
4) Julie Alves
5) Bridgette Rhea
6) Shauski Zike
7) Heathre Foster
8) Michelle Mayberry
9) Michelle Selfe
10) Sheri Stokes
11) Aimee Cook
12) Melissa Yerdon
13) Catherine Boshuizer
14) Sheila Salinas
15) Charlotte Johnson
16) Dejah Cook
17) Krista Cowie
18) Tavares Childs

over 5'8"
1) Brandy Cooke
2) Angela Stueber
3) MJ Coluccy
4) Tori Mann
5) Mindy Schanfman
6) Emma Callaghan
7) Jessica Kaiser
8) Jill Lane
9) Kristin Coombs
10) Kiya Knight
11) Christina Macgillivray
12) Kristina Tjernlund

---

Masters Figure

Overall: Sheila Bratten

Over 35
1) Maxine Johnson
2) Roberta Orth
3) Mary Sohnly
4) Heidi Hansen
5) Candis McNeil
6) Yvette Dubee

Over 40
1) Sheila Bratten
2) Ursula Christofaro
3) Yolanda Glaeser
4) Shannon O'day
5) Lucinda Witte
6) Linda Holmes-Weimer
7) Lorilee Sweeney
8) Desiree Rocovich
9) Laura Moe
10) Barbara Austin

Over 50
1) Kay Friend
2) EQ Pruitt
3) Deanna Eder
4) Mimi O'Connell
5) Karen Oster






Last updated: 4/24/2006 @ 1:58 p.m. PT